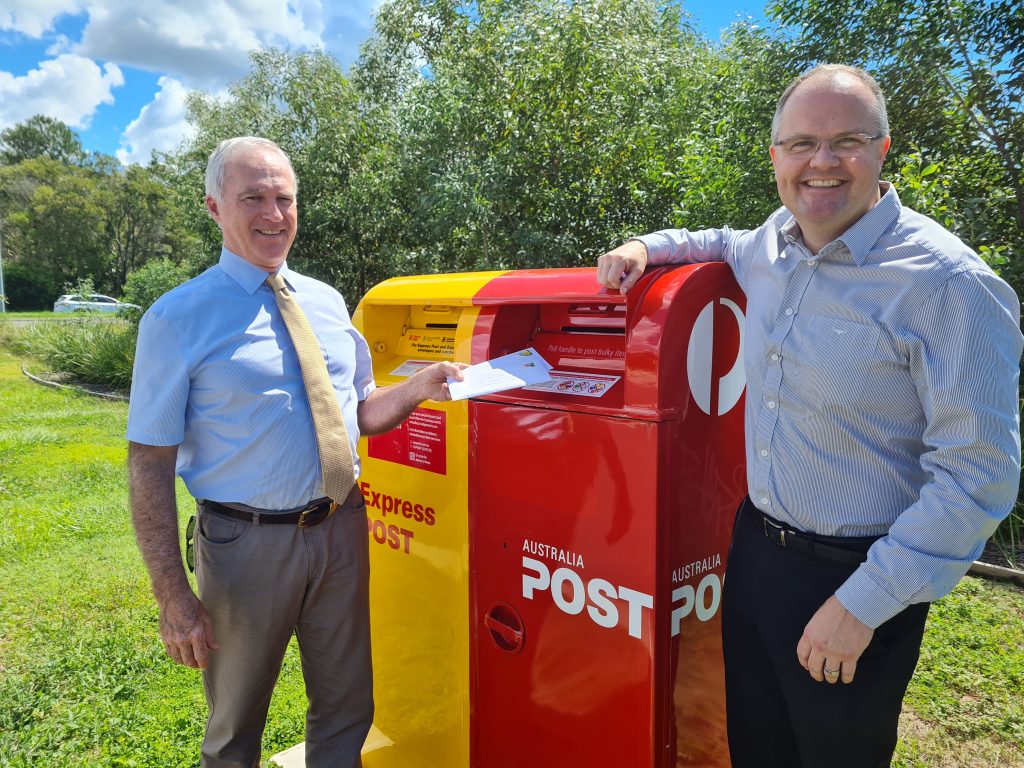 Following a request from local businesses, Ted O'Brien MP, Federal Member for Fairfax, has welcomed Australia Post's installation of two new street posting boxes at the Coolum Eco Industrial Park, on Quanda Road.
Mr O'Brien said it was a great example of the Federal Government working with Australia Post to respond to the needs of the business community.
"Local businessman Frank Carroll contacted my office to ask me to look into the possibility of more convenient post boxes for the growing number of businesses in the Estate," Mr O'Brien explained.
"So, as we are happy to do for any constituent, my staff made an inquiry on Frank's behalf to Australia Post who considered the request and determined the community needed both a standard post box and an Express Post box."
Within a matter of weeks, the boxes were installed near the entrance of the Coolum Eco Industrial Park and have been operational since mid March.
Australia Post Executive General Manager Transformation and Enablement John Cox said the installation of the street posting boxes was a perfect example of the community working together.
"Australia Post is a part of every community and we're constantly looking at ways we can improve services for our customers," Mr Cox said.
"These new delivery points will help the business community of the Coolum Eco Industrial Park continue to grow and thrive."
Mr Carroll expressed his gratitude to Australia Post and to Mr O'Brien.
"I was delighted with how quickly Ted and Australia Post were able to get this organised," Mr Carroll commented.
"It seemed no sooner had I asked, the boxes were being installed.
"It may seem like a small thing, but now businesses throughout the park can save valuable time that could be used for better things, without making a long trip to send mail."
Mr O'Brien commented that he knew that time was important to busy businesses.
"I'm always happy to help Sunshine Coast businesses however I can."