Vanessa bacon-hall
Editor
Nelson Mandela famously said, "Education is the most powerful weapon you can use to change the world" and with those sentiments, the students attending Coolum State High School are set to be game changers and equipped with the necessary tools to navigate a world which is theirs for the taking.
Over recent years the school has recorded impressive milestones – changing attitudes and perceptions along the way with academic, sporting and musical capabilities backing up the scorecard. Principal Troy Ascott is steering the school into waters, which arguably will see the school become one of, if not the best on the Sunshine Coast, and Mr Ascott explained that the school has a very clear plan which will not be compromised.
"We intend on being the 'premier benchmark' in education on the Sunshine Coast and have made big strides towards this goal and this has been evident in our senior school outcomes, NAPLAN results, improvements in student behaviour and the growth in enrolments, and the use of the 'Reading-to-Learn' program gives us a strong foundation in the literacy skills that are the backbone of students' success."
Statistics are backing up the school's vision to be one of the best with 63.1 per cent of its 2019 graduates passing onto further education and training – the best of any public school in the region and 44 per cent of its 2019 graduates in bachelor degrees – bettered only by Kawana Waters State College (by 0.8%) in state education. The school has also repeatedly been listed in 'top ten' or 'best performing' lists for NAPLAN results.
"Coolum High has set its sights very high and we haven't been prepared to settle for average. We want an outcome of worth, a fulfilling outcome, for every student and that takes a lot of work and a lot of commitment and we have that."
COOLUM HIGH GROWTH
Recent infrastructure spending in the growth STEM (science, technology, engineering & mathematics) education area and along with academic and sporting streams, Coolum High has the capability to sustain as many students as want to come along.
"The fact of the matter is that we have a large campus and great staff and facilities … Brisbane State High School is Queensland's largest high school with more than 3000 students and it routinely achieves very high results. Marsden State High School was recently named Australia's best school and its numbers are nearly double those of Coolum. We do need our transport planners to continue to be innovative, but the school can continue growing into the foreseeable future and in many ways, in a high school, size can give added opportunities and this has been the case as Coolum High has continued to grow."
COMMUNITY BENEFITS
Passionate about Coolum High and the wider Coolum community, Mr Ascott explained that his end goal is to see Coolum High regarded for excellence and he can see how this can benefit the wider community.
"When I worked in some very small rural towns I worked out that, in those places, the school IS the community.
"Disciplined and well-educated students are in a position to give back to their community – both in the workplace and in community organisations and better students make better employees for local businesses, and globally aware students find ways to care for the environment like many Coolum High students currently do."
Mr Ascott further explained that all areas of the community benefit from well educated students.
"We also need our students to become educated in the professions and trades that sustain our community and come back and give back to the community."
Past education appointments prove that Mr Ascott has the credentials to lead with his past achievements speaking volumes.
"A highlight for me was becoming Principal of Shailer Park State High School and achieving some really good results in Logan – turning the declining enrolments of approximately 600 students around to where they have well over 1000 students now, and a range of new facilities."
Mr Ascott was also previously Deputy Principal of Narangba Valley State High School when it was considered a premier school within Education Queensland, where for three years straight more than 90 per cent of its students achieved an OP between 1 and 15.
Along with the challenges of 2020 due to COVID the year 12 cohort in Queensland adopted the ATAR system and moved on from the OP system on leaving their 13 years of education and despite these challenges the Coolum High student cohort performed well.
"Not only were students' ATAR scores wonderful, it is the clear and deliberate pathways that every single student could explain that was most exciting. The students are a credit to themselves and their parents, and also to the dedicated staff who helped them on their journey. I am proud of all our students both in terms of the character and the excellent choices they are making."
Mr Ascott is also keenly aware that as the saying goes, "It takes a whole village to raise a child".
"Coolum High really is the community's school.
"While we celebrate our achievements we revel in being part of this amazing community and we are hoping, more than anything, that our whole community gets behind the school and feels a sense of pride in the achievements of the students."
"I think we have developed something we can all be proud of; and I think our next challenge is to make our school sustainably one of Queensland's best."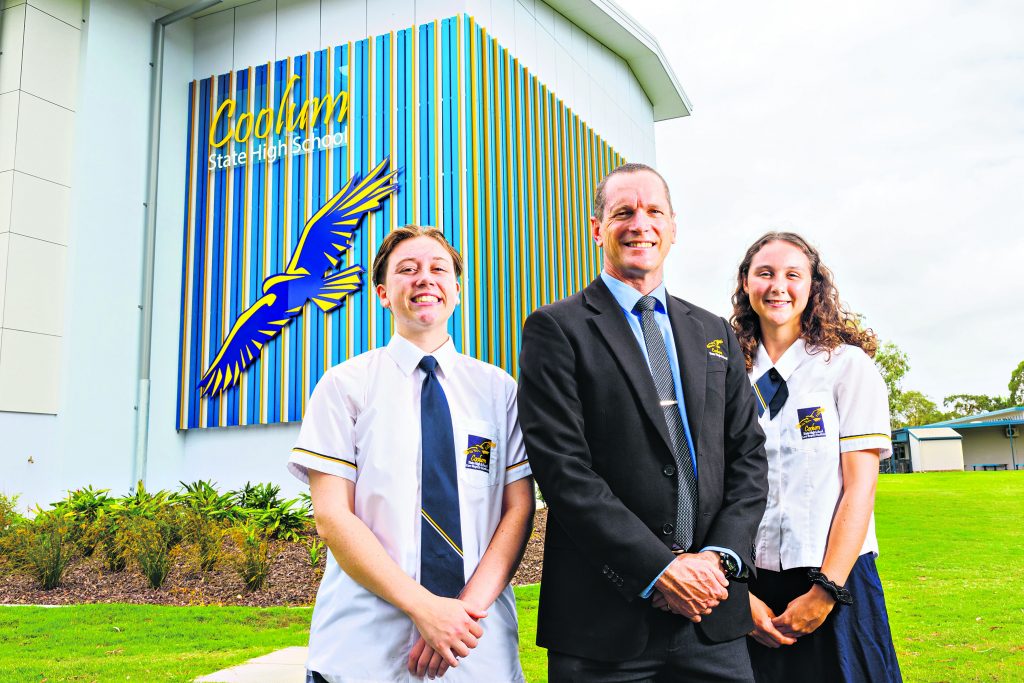 ON THE RISE: Coolum State High School has a vision that is clear and one that is striving for excellence in all facets of the school's educational offerings. Principal Troy Ascott (centre) has set the bar high with the school and top scoring 2020 graduates such as and Mika Joyce-Mangschou and Nikita Sklenars are reaping the benefits from the school's educational programs and commitment from dedicated teachers as well as the support from the wider Coolum community. Photo: Travis Macfarlane