GOLDY GROM COMP HEATS UPWITH OLI TAYLOR WIN IN U14'S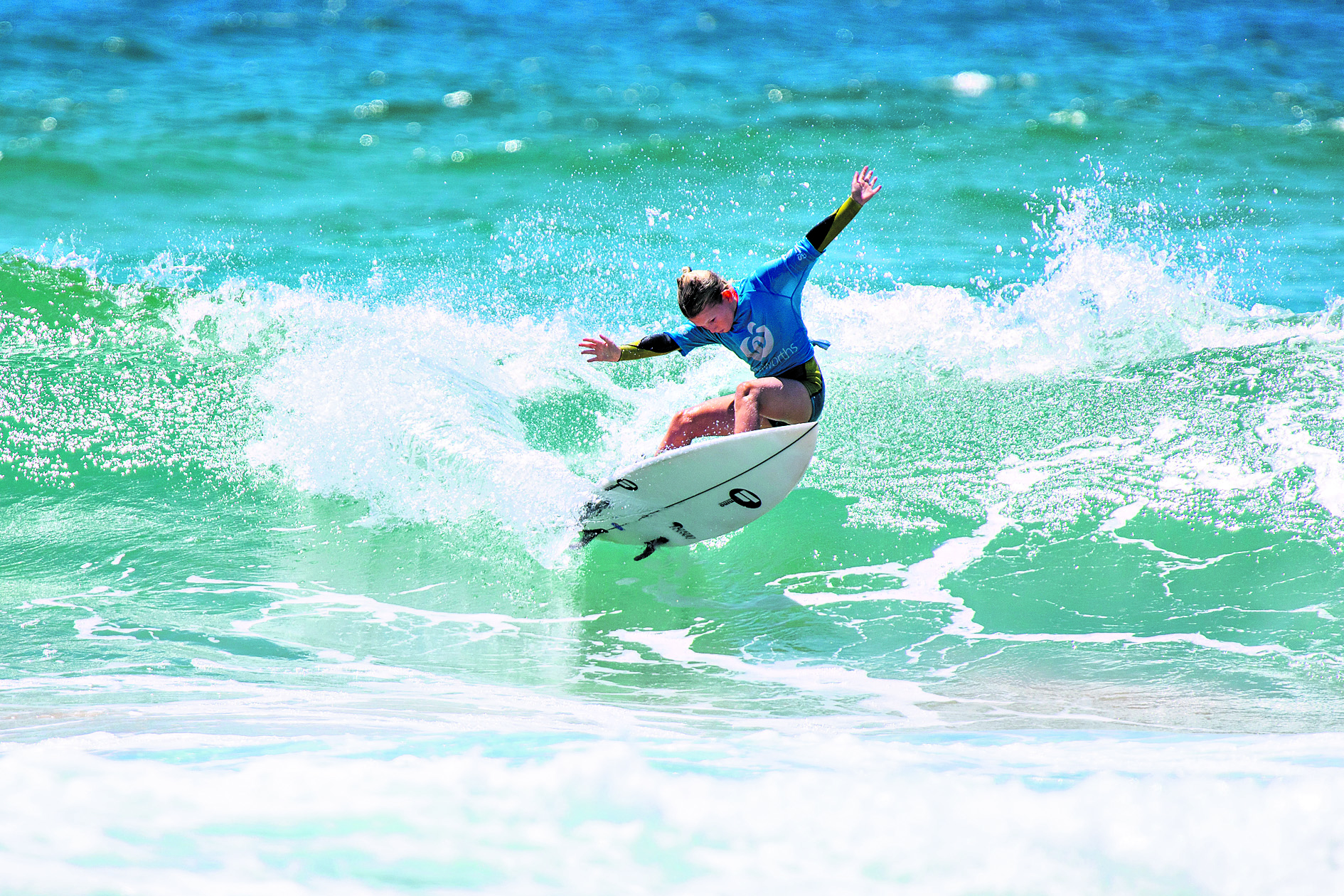 Peregian's Oli Taylor in action over the past weekend on the Gold Coast at the Woolworths Surfer Grom Comp. Photo: Clayton Fowler. 
THE past weekend saw seven individual champions crowned at the Gold Coast leg of the 2020 Woolworths Surfer Grom Comps Series, which was held at the Southport Spit in peaky 2-3ft waves.
Olympic head judge Glen Elliot described the day as "some of the best junior surfing I have ever seen" in what was a fun filled day of action packed grommet action at a postcard day on the Gold Coast.
Under 14 girls champion Oli Taylor from Peregian Beach was delighted to claim the win in a stacked final consisting of Jordy Halford from Currumbin, Ocea Curtis from Lennox Heads and Fingal's Ava Argyos.
"It was such a close final, all of the girls are so good at surfing," Oli said. 
"Catching that first wave and scoring a 6.17 really set me up for the win and this competition has been so much fun and it's been the best weekend!"
Surfers will now prepare for the final leg of the Woolworths Surfer Groms Comps, scheduled for December 12 and 13 on the Sunshine Coast.
For a full list of final results and to stay up to date with all events, please visit – www.surfingqueensland.com.au.
---
Coolum Cricket
The past weekend saw another incredible weekend of cricket featuring Coolum teams. Sam Curtis blew away Gympie with a record breaking 161 from 166 balls, including 15 fours and 3 sixes. His second century of the season and the highest score in the division one competition. The third grade team pulled of an unlikely victory against Palmwoods. David Duncan 54, Craig Storm 7-57 and Glenn Weier 5-22 played key roles in the victory.
The Women's team were finally defeated in a close game against Maroochydore. A late onslaught from Kerry Cowling 16 and Sammy Franks 18 kept the crowd entertained.
In the junior games, Coolum Heat under 14's outclassed TNT Lightening with a polished performance. Finn Wilson fell two shy of a half century scoring 48 off 44 balls. Jack Lahood took three wickets in 10 balls, taking advantage of a spin friendly wicket.
Harvey Mitchell 4-14 helped the Makos under 12's secure victory over Cooroy/Eumundi with a fine bowling performance.