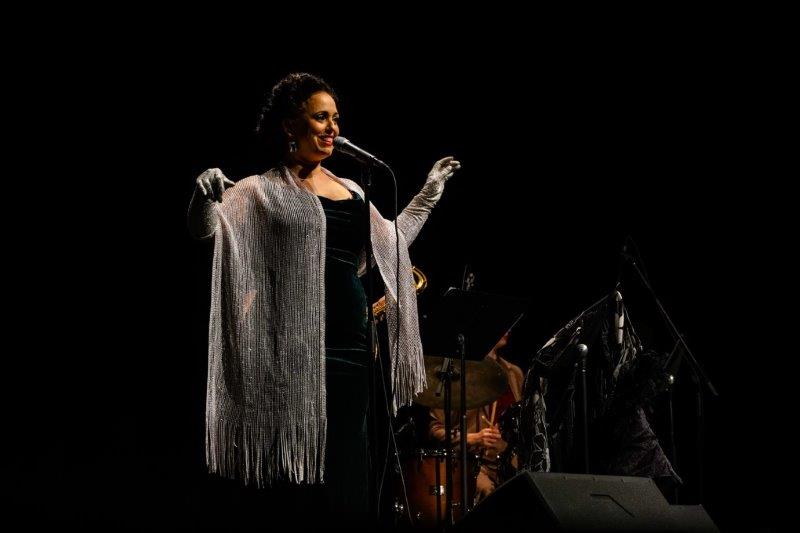 IN A SPELLBINDING ode to the bygone era of jazz, soul, and cabaret, Melissa Western and her exceptional all-female ensemble extend a warm invitation to Coolum locals to step back in time to 1954 for one night only at the Coolum Civic Centre on Saturday, November 11.  
The year 1954 was a year that witnessed the extraordinary careers of three musical legends – Ella Fitzgerald, Etta James, and Eartha Kitt and this production is a dazzling showcase that commemorates the ground-breaking contributions of these iconic artists and their enduring influence on the world of music.
Melissa Western is renowned for her commanding stage presence and velvety voice, and critics have praised her performance as "fiery" and "highly enjoyable," acknowledging her "vast and versatile" musical prowess.
Through extensive research and immense dedication, Melissa has meticulously crafted a show that not only pays homage to the musical genius of these legends but also delves into their remarkable life stories.
Beyond being a musical journey, "1954: Ella, Etta, Eartha" serves as a testament to the indomitable spirit of these remarkable women who overcame prejudice, poverty, and adversity to rise above the challenges of their time.
"As my understanding of the era developed, I was drawn to the stories of Ella Fitzgerald, Eartha Kitt, and Etta James. Though very different in their music styles, I noticed a common thread of genre trailblazing – three women of colour shattering glass ceilings all around them and paving the way for countless others who followed in their footsteps," Melissa explained.
The show is a harmonious blend of nostalgia, history, and exceptional musicality. It offers a captivating journey that not only showcases the resilience and artistry of these iconic figures but also immerses the audience in the vibrant atmosphere of the 1950s.
"I often joke that I was 'born in the wrong era and that the style and music of the 1940s and 1950s suit my style and personality much better than the 2020s," Melissa remarked.  
Sharing the stage with Melissa is a talented all-female jazz band featuring some of Brisbane's finest musicians, including Jayde Ellingson on bass, Grace King on drums, Cassie Whitehead on sax, and Peta Wilson on keys.
Presented by the local performing arts company Red Chair, with support from the Queensland Government through Arts Queensland this musical celebration is a tribute to the enduring legacies of three musical pioneers and promises to be an unforgettable journey back in time for all who attend.
Performance Dates
Maleny Community Centre Thursday 9 November, 7pm
Majestic Theatre, Pomona Friday 10 November, 7pm
Coolum Civic Centre Saturday 11 November, 7pm
Eudlo Hall Sunday 12 November, 4pm
Ipswich Civic Centre Friday 17 November, 8pm
Full Event Details: www.redchair.com.au