VISIT & DONATION TO COMPASS FARM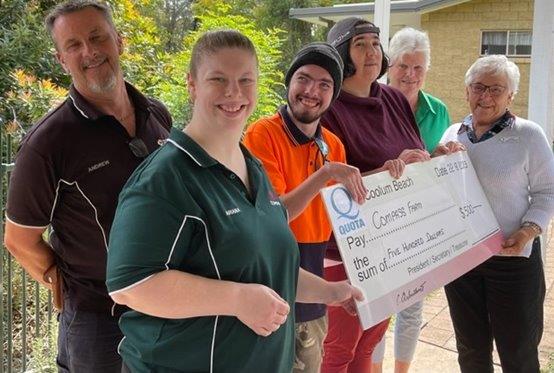 AFTER having coffee at the Compass Café in Nambour earlier in the year, the ladies of the Coolum Quota Club decided to book a visit to the Compass Farm at Hunchy and make a donation towards the great work they are doing.
Fourteen members and partners were met by Andrew, who is a man of many talents and his trusty sidekick trainee, Lester.  We were treated to a magnificent morning tea that was prepared and served by the trainees Arianna and Matthew.   Some of the trainees joined us and it was great getting their opinions on what they did and just how much they loved what they were doing.
Our President Cindy presented a cheque to Kelly and Andrew to help continue the work in a small way.
Compass was established in 2011 to support people with a disability, encouraging them to thrive, gain work experience and enjoy vocational experiences while being creative and learning new skills on a working farm.  Some of the trainees had been there a while and some were quite new, but all loved to show off what they were doing from art, animal husbandry, woodwork and making jams and preserves.
Compass Farm  hopes to be branching out in 2024 by establishing a facility at Barnes Lane in Coolum which Quota Coolum Beach is looking forward to supporting as it is such a wonderful organisation in our community.
Andrew was very enthusiastic about the programme, and it certainly rubbed off on the trainees. Bella proudly showed off the resident chooks of 'Cluckingham' House. The eggs collected were used in the cooking they do on the premises.  There was also "Britney Spears" who is a massive pig who was quite happy to allow Bella to walk into the pen and pat.
Some beautiful timbers in the woodworking area were being turned into various saleable products and Caitlin was able to explain the work involved in making a piece of wood into a work of art. 
There were photos of the Luxury Hen Houses on Trailers that have been made and raffled and incredible artwork was being made by a number of people showing some great skills and endless patience.
As with many such organisations, volunteers play an integral role. Well done to Kelly, Andrew and the staff and all the trainees at Compass Farm.