ELEVATING SPORTING WIN WITH UNIQUE DISPLAY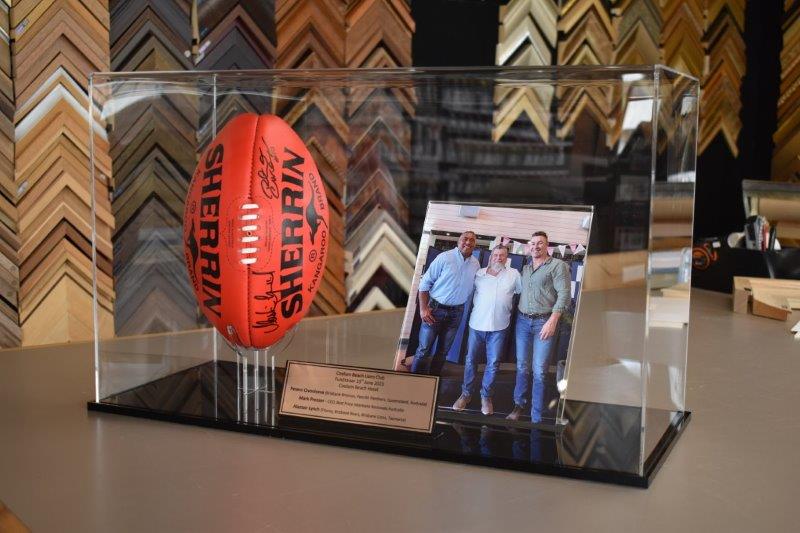 WHEN the name of well-known local businessman, Mark Prosser was called as the fortunate winner of the lucky door prize at the Coolum Beach Lions Club sportsman's lunch, Mark soon discovered just how lucky he was.
Mark's prize was no ordinary win, it was a Sherrin football, adorned with the coveted signatures of Queensland Rugby League legend Petero Civoniceva and three-time AFL Brisbane champion Alastair Lynch. This transformed Mark into the proud owner of a unique and valuable sporting treasure. Both sports stars had graced the Coolum Lions annual sportsman's lunch event as guest speakers and, in the spirit of generosity, contributed their signatures to support the lunch which serves as a major fundraiser for Coolum Lions each year.
Proprietor of 'Best Price Interstate Removals Australia', 'Prosser' viewed this fortuitous turn of events as a generous return for the time he had taken off work to support the charity lunch.  
"I find great joy in supporting our local groups, and winning this prize was a delightful surprise," Mark said.
To transform this prized possession into a lasting piece of memorabilia, Mark turned to Bill Gissane of Yandina Art & Framing, who are specialists in innovative methods for displaying memorabilia and are renowned for their expertise in military and sporting medal services.  
Collaborating with Dave Cunningham from Bent Plastics in Kunda Park, the team at Yandina embarked on a novel journey to craft a unique display for the football. The creative minds at Yandina Art & Framing added a striking touch by including a photo of Mark receiving his prize and a plaque from Apogee Sunshine Coast.
Upon receiving the finished creation, Mark was left in awe of the remarkable presentation.
"While I was well aware of Bill and his team's ability to work wonders, this masterpiece far exceeded my expectations.
"I'm eagerly anticipating the opportunity to showcase this unique piece of art in a place of honour in my home," Mark declared.
Yandina Art & Framing has garnered a reputation for their innovative and creative approaches to displaying memorabilia.
"We really enjoy the challenges associated with the more advanced forms of framing and see every interesting job as a way of rising to the occasion," Bill said.
Yandina Art & Framing have many ideas available to frame and store your treasured items and keepsakes. You may just have the perfect Christmas gift for someone already in your home, call them now on 5446 8000 for a friendly chat and to find out how they can help frame your memories for many generations to come.