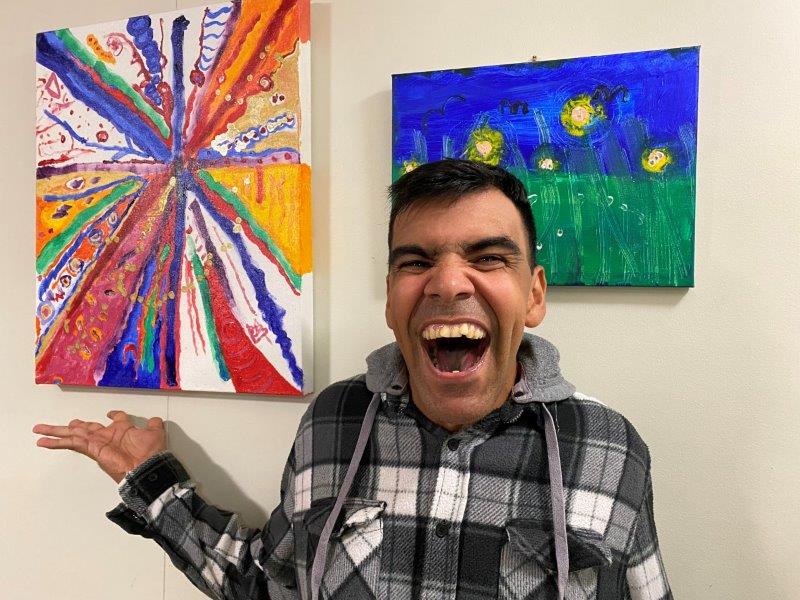 DISABILITY support organisations Equity Works and Spiral, along with advocates for inclusivity and artistic expression, are thrilled to announce their upcoming art exhibition – ArtWorkz: Art for Everyone which will again take centre stage at the Coolum Civic Centre on Saturday, July 1.  
This showcase aims to amplify the diverse voices and talents of artists with disabilities, and hopefully flourish a deeper understanding and appreciation for their unique perspectives.
The exhibition will feature a captivating collection of artworks across various mediums, created exclusively by artists with disabilities. This event promises to challenge preconceptions and ignite conversations about the limitless potential of people with disability in our community.
First-time exhibitor Bruno Manzoupo is excited to join ArtWorkz this year. 
Born in Portugal, Bruno is inspired by his love of Reggae music and Bob Marley and said that it reminds him of how much beauty there is in the world.
Exhibition organiser Steph Whelan further empathised with Bruno's statement saying the mission with art was always to empower individuals to express themselves. 
"Through 'ArtWorkz,' we aim to break down barriers, challenge stereotypes, and celebrate the immense creativity that resides within each artist.
"The exhibition invites visitors of all abilities to explore the artwork and engage in meaningful conversations about the experiences and narratives represented."
Equity Works and Spiral are not-for-profit organisations that together, support over 300 people living with disability. They regularly collaborate on projects that center upon building inclusive communities and they share a passion which is to support the development of opportunities for everybody so each person can flourish and grow their involvement within the community.
Jasmine Bethell from Spiral shared that it was important for organisations to work together.
"The collaboration between Spiral and Equity Works has allowed us to connect more artists to our local communities and it is an absolute honour to work alongside an organisation with amazing values and passion for engagement and to strengthen our continued partnership."
Tara McNeela from Equity Works thanked the local community for their support.
"We appreciate the ongoing support from the Coolum Art Collective and are excited and thankful this year of a new community partnership with Sunshine Coast Art and Framing Gallery, who will provide their support and expertise in assistance with curation."
ArtWorkz – Art for Everyone will run from 9.30 am to 2.30 pm, Saturday July 1st, at the Coolum Civic Centre. Entry is free and everyone is welcome.