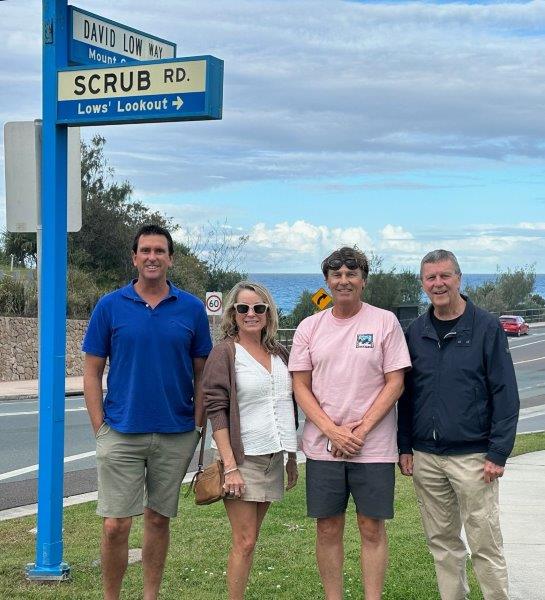 CROSSING the busy David Low Way on the corner of Scrub Road is set to become a whole lot safer with the announcement of funding to the tune of $1million for a pedestrian access with design work now underway.
The announcement was made last week by Ninderry MP Dan Purdie who championed the funding by celebrating with local community members.
A new pedestrian refuge on David Low Way will be installed as part of the project, along with a dedicated right-turn lane at the intersection with Scrub Road.
Ninderry MP Dan Purdie welcomed the news, saying the community have been extremely patient after funding was first announced in 2021.
"The community have been asking for better pedestrian facilities in this area, as there are only a handful of locations to safely cross David Low Way, which is one of the busiest roads in our region," Mr Purdie
Mr Purdie said he would be calling for more investment in local road infrastructure projects as part of next week's State Budget.
"Investment in our local roads has clearly not kept up with population growth and given the need to increase connectivity and active transport options, there clearly needs to be more investment in pedestrian facilities like this," Mr Purdie said.
Mr Purdie said he will also be calling for funding for the Motorway duplication to be fast-tracked, upgrades and maintenance for the western section of Yandina Coolum Road, safety improvements for Eumundi-Noosa Road, and pedestrian facilities for Bli Bli.
"It's not good enough to simply drip-feed the funding for these important upgrades. We need the investment now, so we can not only make sure our road network is safe for all users but can also accommodate the increased volume of traffic that is anticipated as our region continues to grow." 
Mr Purdie said he was still waiting for further information about the expected timeframe for the upgrade of pedestrian facilities, but hoped the design work would be completed before the end of the year.