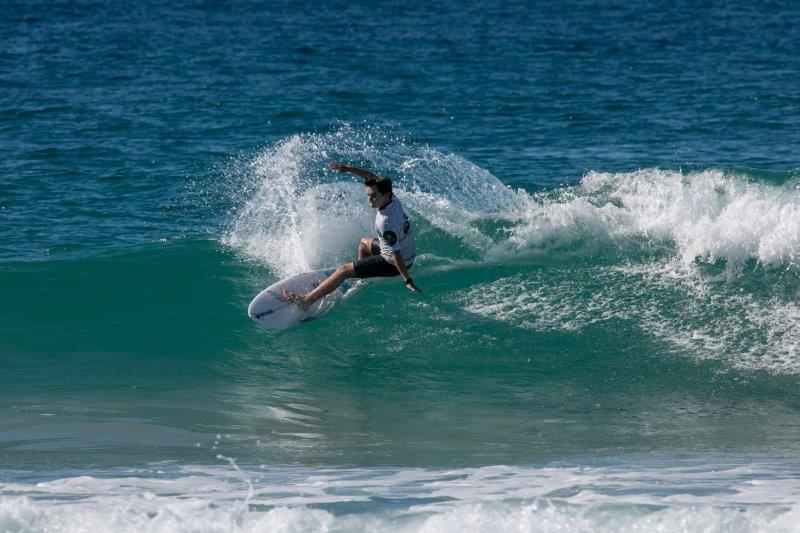 SUNDAY, June 11 saw the winners of the 2023 Woolworths Queensland Grommet Titles event two and overall Queensland Champions crowned at Tallebudgera Beach on the Gold Coast.  
In clean 2 – 3ft waves, Peregian Springs' Kai Coleman took out the top spot in the Under 14 Boys event, and other stand-out locals included Louis Taylor and Sunny Canina in the Under 12 Boys Division.  
The final day of surfing action proved to be a classic Queensland winter day with light winds and plenty of waves for the groms to battle it out for a state title and a position at the 2023 Australian Junior Surfing Titles to be held at Phillip Island from November 25 to December 3.  
The Under 14 boys were on fire all weekend with Kai Coleman (Peregian Springs) the standout from day one. He had a quick start to the final with two major scores on the board, putting the pressure on his fellow competitors.
Coleman defeated Luca Martin (Coolangatta), Archie Fergusson (Sunshine Beach) and Monty Mergler (Point Lookout).
"It feels really good to get the win and go to Aussies on Phillip Island this year," Kai said.
"The waves were pumping and I had so much fun out there over the weekend."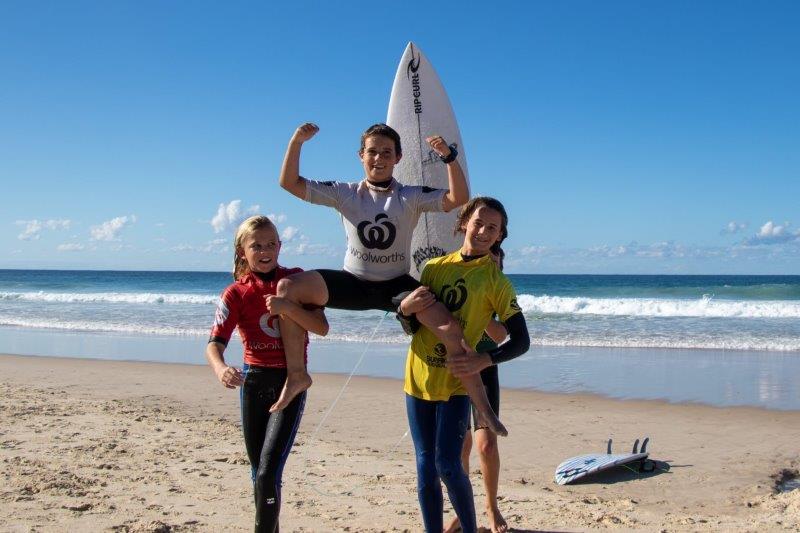 In the Under 12 Girls final, Navah Holmes (Tugun), fought hard for the win against Evie Bawden (Noosa Heads), Billie Berg (Miami) and Malia Simon (Coolangatta).
The Under 12 Boys Division was taken out by Jaxxon Sands (Palm Beach) who was a standout performer of the weekend. Sands defeated Louis Taylor (Peregian Beach), Zane Perez (Gold Coast) and Sunny Canina (Peregian Springs).
It was a battle of the sisters in the Under 14 Girls Division with one set of twins and another pair of sisters making up the final four competitors. Eliza Richardson (Sunshine Beach) scored one of the waves of the day, a 9.00 (out of a possible 10), to give her the edge over her twin sister, Rosie Richardson (Sunshine Beach). Coming in at third and fourth respectively were sisters Charlotte Rielly (Dicky Beach) and Savannah Rielly (Dicky Beach).
The results of events one and two were combined to decide the Queensland Champions for each division.  
Overall Woolworths Queensland Grommet Champions are listed as follows,
U12 Girls – Navah Holmes
U12 Boys – Jaxxon Sands
U14 Girls – Eliza Richardson
U14 Boys – Kai Coleman
The 2023 Woolworths QLD Grommet and Junior Titles are supported by Woolworths, DriTimes, We Are Feel Good Inc, Suzuki Queensland, QMS Media, The Point Coolum Beach, Queensland Government, Sunshine Coast Council and Surfing Australia.
WOOLWORTHS QLD GROM & JUNIOR EVENT SERIES SCHEDULE 
2023 Woolworths QLD Grommet Titles, Event One, Sunshine Coast: 27 – 28 May
2023 Woolworths QLD Junior Titles, Event One, Gold Coast: 3 – 4 June
2023 Woolworths QLD Grommet Titles, Event Two, Gold Coast 10 – 11 June
2023 Woolworths QLD Junior Titles, Event Two, Sunshine Coast: 17 – 18 June