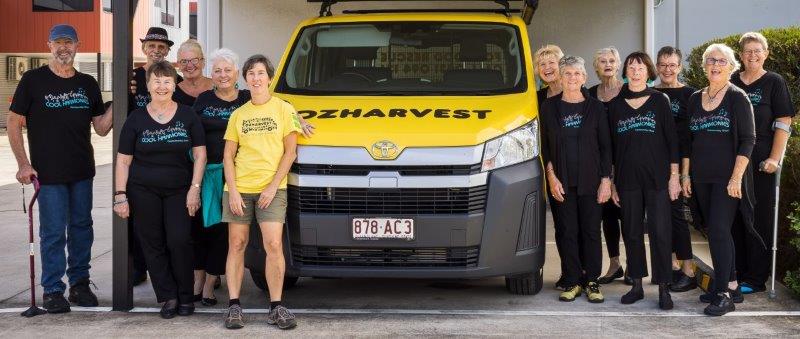 OzHarvest is one of many charities struggling to meet community needs as rental stress, cost of living pressures, and ongoing natural disasters take their toll on those already vulnerable.
Cool Harmonies community choir will open its rehearsal doors to welcome the public to enjoy beautiful harmonies and fabulous food on 22 June while raising funds to help cover the running costs of this local volunteer organisation.
Choir leader Yvonne Corstorphin said "Sharing our songs with members of the public while raising funds for a local community group is such a joy. We are delighted to have Chapter Coordinator Michele Lipner come along to tell us about the valuable work OzHarvest does in our community."
OzHarvest Sunshine Coast and Gympie have been operating in the region for almost nine years, collecting and redistributing surplus quality food to more than 45 local agencies that support individuals and families who are food insecure.
"Food donated to schools, charities, community programs, community centres and churches is then either turned into meals and hampers or provided as part of school breakfast and lunch programs," Michele said.
"Since starting operations in 2014, the volunteer-run chapter has rescued more than 800,000 kg of quality food from local supermarkets, bakeries, farmer markets, local producers and farmers – the equivalent of 2.2 million meals."
Michele said while the totals collected (and diverted from landfill) are impressive, demand for the service far outweighs supply.
"Some agencies report that 30% of the people they support are seeking food relief for the first time. The increase in need for food relief has only continued to rise since 2020 and there is no end in sight. The charities OzHarvest supports reported a 61% increase in demand over the last six months alone."
Michele said OzHarvest relied on community support and fundraising to help keep its operations going and get food to the people who needed it most.
"For every dollar raised, OzHarvest is able to deliver the equivalent of two meals to people in need," she said.
Coolum Harmonies choir will entertain the audience with songs in many different languages as well as uplifting gospel and pop numbers. Guest artists MA@MA will include a sing-a-long with old favourites that everyone knows.
"All choir members bring a plate of food so there is plenty of delicious food to round out a beautiful morning," Yvonne said.
Cool Harmonies' morning tea fundraiser is on Thursday, 22 June 2023 from 9.30am – 11.30am at the Coolum Civic Centre, Park Street, Coolum. Cost: $15, pay at the door (includes morning tea refreshments). For more info contact Yvonne on 0403 013 555.