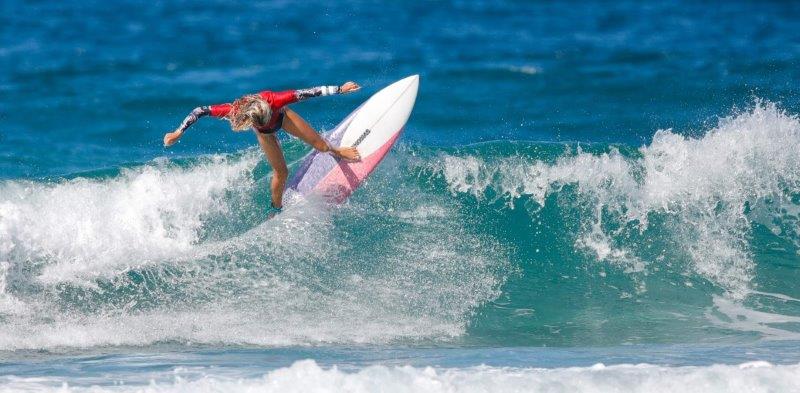 VANESSA BACON-HALL  
It was all about the girls on Saturday, May 6 with the first-ever Sunny Girl Surf Series held on Coolum Main Beach, and the day of surfing action which was the brainchild of Coolum Boardriders was a way for the club to further foster a love of surfing for young girls.  
The event hosted 55 girls in total from across the Sunshine Coast region and was seen as a way to give young female surfers more time in the waves and to further fuel a desire to keep on surfing and competing.
Coolum Boardriders President Gavin Potter said that the club had identified that at most competitions many girls were only getting one or two heats and this event was an opportunity for them to surf more.
"We really wanted to empower more girls and to hopefully get them out there and to stay surfing.
"It's accessible to everyone here and we just want to get as many girls out surfing and through this event, many have made friends from other beaches on the coast and now have friends, they can surf with at other places… it's been a great opportunity for them to socialise."  
"Hopefully we can have three a year – that's the vision and we are hoping to have other clubs host."
The format of the event saw the girls in divisions from 18 and under down to younger girls and there was even a 'parent assist' division which allowed a parent to be in the water to help the young surfer catch a wave.
The one-day event had to reschedule and as a result, were extremely lucky with the conditions with near perfect 1-2ft waves the order of the day with Gavin saying that they "couldn't have planned it better." 
The event was also able to get eight judges three of which were high profile local female surfers including Ellia Smith.
"We also made the event free to enter with the clubs paying the entry fees and with all of our sponsors every girl walked away with a bag full of goodies."
Entrants as well as families and friends praised how well run the event was with many saying it was as good as the Woolies Surf Groms Comp.  
"We set the bar pretty high and there are some big shoes for other clubs to fill but hopefully another event does happen this year because surfing is so good for everything!" 
Coolum Boardriders would like to thank the following businesses and individuals for their support of
Ruby Blue Hair at Marcoola, Noosa Naturals, Campbell Designs, Sun Bum, Diggerman, Beachbeat, Ashley Wild skate ramps, Bravo Surf Burleigh, Noosa Surf Outlet and Amanda Davidson Art who made the trophies.
To be kept in the loop with everything happening at Coolum Boardriders check out their Facebook page at 'Coolum Boardriders Club'.