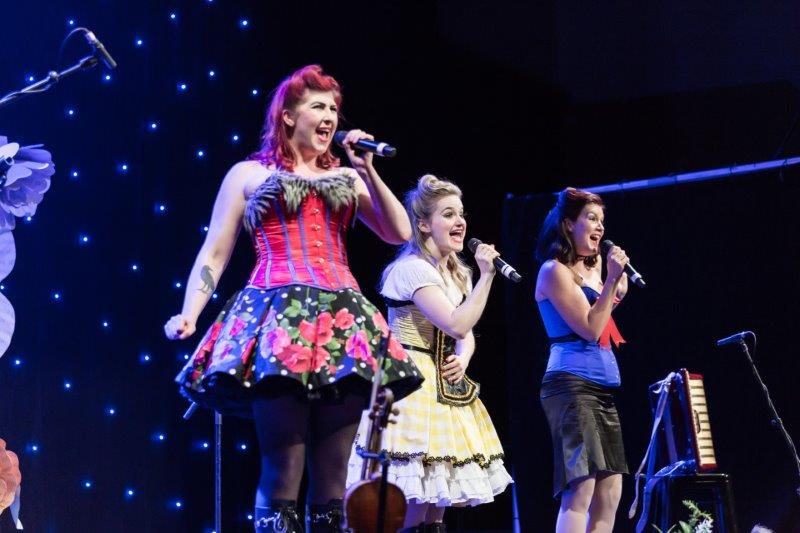 COMING to the stage later this month is a new production from the company who were behind the Babushka Book Club production last year and 'Happily Ever After' which is described as a "wickedly funny, world-class cabaret' will be performing at the Coolum Civic Centre for just one night on Saturday, March 18.  
In this new production, three unlikely princesses tell a very grown-up bedtime story, turning best-loved children's stories inside-out for their audiences and the production will also tour to Maleny, Pomona, and Eudlo.  
The production is a blend of comedy and cabaret and features music from well-known acts such as Kurt Weill, Rihanna, the Violent Femmes and Tom Waits – Babushka is ready to give Rapunzel a sharp new haircut, put Goldilocks in charge of the three bears and give a whole new meaning to Puss in Boots.  
Artist and founder Alicia Cush explained that the group is thrilled to bring their new production to life on stage.
"Happily Ever After is a perfect excuse to get your friends together for a ladies night out, or bring a date, to have a good laugh and experience some world-class music."
Brisbane-based Babushka is a Matilda Award-winning cabaret group and with slick vocals, quirky comedy, and unapologetic sass, they take on everything from Mozart to Guns'n'Roses with unique arrangements, musical sketches, and mashups.  
Babushka artists, Judy Hainsworth, Laura Coutts and Alicia Cush, have toured extensively throughout Queensland with previous shows, Babushka Book Club, Doll and, I Can Keep A Secret, to sell out houses and critical acclaim. 
Babushka deliver shows which have been described as raunchy, sexy, witty, humorous, and extremely enthralling, and as a result Happily Ever After is strictly for adults with coarse language and adult themes. 
The Happily Ever After Sunshine Coast tour is presented by local performing arts company Red Chair with the support of the Queensland Government through Arts Queensland. This initiative was supported through the Creative Industries Investment Program and is jointly funded by ArtsCoast through Sunshine Coast Council's Art and Heritage Levy and the Regional Arts Development Fund in partnership with the Queensland Government.
Full Event Details: redchair.com.au/what-s-on/event/569-babushka-in-happily-ever-after