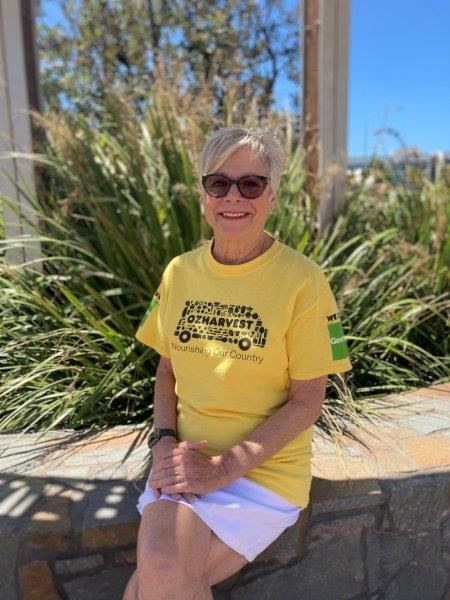 BY VANESSA BACON-HALL
Each edition the Advertiser will take you on a journey through the life of people in our community – the characters, the notable ones and just those with an interesting backstory. This week we look at the life of Michele Lipner.
A DESIRE to help and to do good has been the underlying theme throughout the life of Peregian Springs local Michele Lipner who now uses the skills she honed whilst working in senior roles with Save the Children and the United Nations to coordinate the Sunshine Coast branch of OzHarvest.
Since 2004 OzHarvest has been fighting food waste through food rescue, education programs and sustainability work. 
A native of California, formal study took Michele down the path of a PHD in sociology, not that Michele is one to drop the term 'Dr' and advertise this, however with this education her first posting came about as she says by simply, "being in the right place at the right time."
"I fell into international aid and development, and this took me overseas in management roles running non-government organisations.
"I was involved in humanitarian assistance with the UN – primarily in conflict areas."
And that very first posting took Michele to the Republic of Georgia just after the fall of the former Soviet Union.
Michele explains that at the core of humanitarian aid is ensuring longer-term supports are in place once the immediate emergency response is over, which will ensure the longevity of people and the country.  
"In Georgia, I was with Save the Children US and that support was about providing medical support and training up doctors." 
Michele's work took her to many other countries in conflict or ones considered dangerous such as Armenia, Afghanistan, and Aceh Province after the Boxing Day Tsunami.
"The scariest was actually Aceh Province after the Boxing Day Tsunami."
Michele explains that negotiating with a warlord could be done but dealing with mother nature was unpredictable and frightening.  
"Soon after I arrived the second major earthquake happened in Aceh Province and it was an 8.7 and I realised after that experience what scares me more was natural events, you know your advisory or what you are dealing with when it is in a conflict zone."
"Afghanistan though, was the most challenging as we were trying to establish a sense of country in a place that had never been a country and continues not to be – it's terrible to see what is continuing to happen there."
Despite the challenges found in Afghanistan, it was here that Michele met her husband, an Australian Army advisor and the couple were married two years after meeting and then went on to live in Canberra.
Michele explains that living in cold Canberra was not exactly the Australian way of living that she had envisaged and after holidaying on the Sunshine Coast a move to the region was the right thing to do and that desire to help took on a new life here on the Coast.
"We were both working remotely, and I felt that I wanted to enjoy life and for me, I am someone who needs to do something and what gives me a sense of passion and purpose is to help others." 
Michele had heard of OzHarvest in Canberra and thought that it was an amazing organisation as the charity not only fed people but also saved countless tonnes of food from landfill.
"I thought that this was something I would love to do on the Sunshine Coast, and I saw that there was a definite need for the service here."
As a one-woman show to begin with the Sunshine Coast venture started in 2014 from Michele's garage.  
"We rescue quality food that might otherwise go to waste, usually fruit and veg or it could also be baked goods and frozen meat, we then donate that onwards to charities, community groups and churches and these agencies will then convert that into meals or allow that food to be taken as food hampers."
Michele stresses that this is quality food that may have blemishes or be nearing its use-by date, but all food is safe for consumption.  
And as with most charity organisations, they are run by the generosity of volunteers.
"We started with three volunteers and three donors, and we were initially collecting 400kgs a month and now we have 100 volunteers, with 40 donors such as Coolum Woolworths and collect 15,000kgs of food a month."
OzHarvest also provides cooking classes and performs school outreach by trying to teach the importance of healthy eating and environmental awareness.  
And being named 'Citizen of the Year' Michele said that it was a huge honour to be recognised but states that it's not the awards that make her want to help and has this advice for anyone wondering how they too can "do good".   
"Never doubt the impact of your footprint on the world. You doing something can change someone else's life."
Do you have an interesting person that you think the Advertiser should feature? Send in your suggestions to editor@coolumadvertiser.com.au