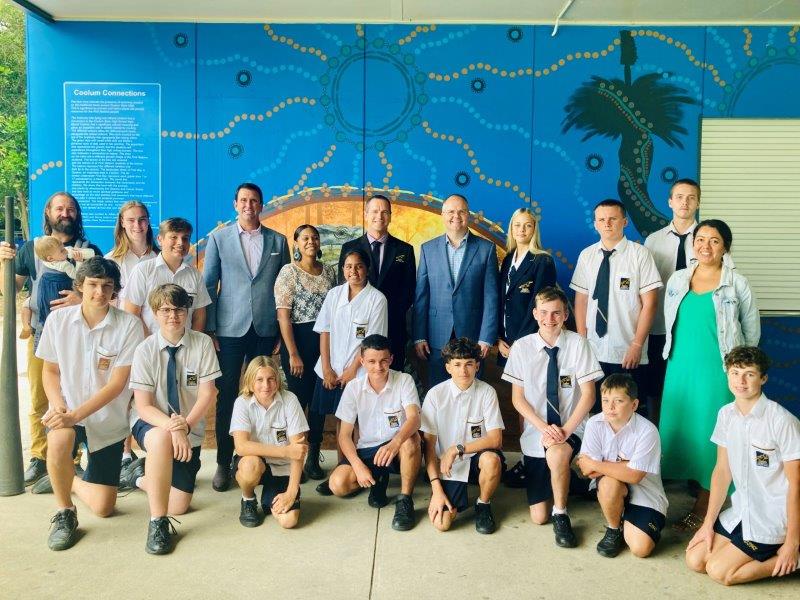 COOLUM State High School officially opened their new mural on Monday, February 20 with a special ceremony to commemorate the artwork. The piece was a collaboration between Nikita Fitzpatrick from New Dreaming Art along with Ben and Dave from Rythmicolour and was funded by Coolum State High School P&C.  
Principal Troy Asott when addressing the crowd which comprised local dignitaries and First Nations students, said that the brilliant piece of art sits in the heart of the school.
"It sits at the heart of our school because indigenous culture and indigenous students sit at the heart of our school."
"Indigenous culture represents the oldest living culture on earth and this mural is a connection to that culture."
The mural took around 35 hours to paint and is a mix of rich oranges, earthy browns, and warm yellows. The goanna and the carpet snake are traditionally indigenous wisdom holders and provide guidance for young people.
Federal MP Ted O'Brien further stated how impressive the mural is.
"Nikita, you have a gift and to the indigenous students I can't tell you how important you are."
Artist Nikita Fitzpatrick stated that she was honoured to have been asked to paint the mural.
"We were so excited to get invited back to extend the mural – the first part focuses on the coastline and with this one I wanted to focus on the bush along with circles that connect everyone." 
"We all have a purpose and this shows how we are all connected – our land, our animals and us."
Funding for the mural came from the P&C with President Nicole Sklenars extremely proud of the finished piece.  
"This makes a really great statement as people walk into the school and the students just love it."
Mr Ascott further stated the importance of the artwork for indigenous students.
"My most important message is that you and your culture are at the heart of our school. I hope that this artwork stands as a symbol of your place in our school and that it creates connection and belonging to this place."