BY VANESSA BACON-HALL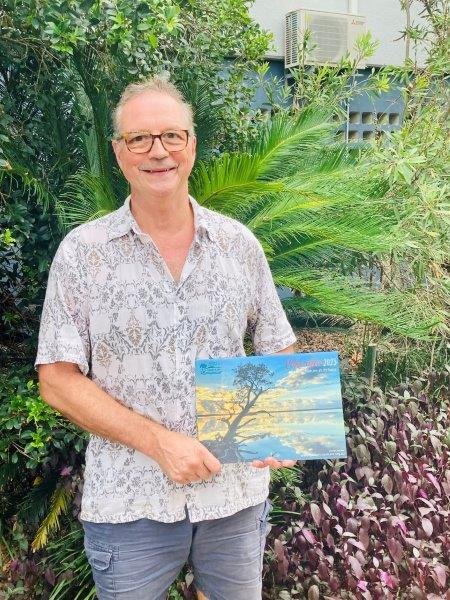 Each edition the Advertiser will take you on a journey through the life of people in our community – the characters, the notable ones and just those with an interesting backstory.
Cannes, London, Hamilton Island, Cologne, Paris, and Coolum – what could they all have in common? For Meals on Wheels Chef, Lutz Kramer they are all places where he has been lucky to work and coming out in the poll position as the best? Coolum of course, which in Lutz's opinion is nicer than the South of France!
Starting out in his home country of West Germany, Lutz was trained as a chef, working for the huge hotel chain InterContinental. Lutz knew that having a career in hospitality as a chef would be an opportunity to travel and see the world.
"I wanted to travel when I was young, see the world and learn languages and experience things, and if you are a good chef, you can go anywhere in the world."
"Funnily enough carrots are always cut the same way no matter where you are in the world," Lutz explains with a laugh.
From his hometown of Cologne Lutz was transferred to a Michelin star restaurant with InterContinental in London and then to Cannes in the south of France.
Working in high end restaurants where $1000 a dinner is the standard was where Lutz honed his skills quickly as a fine dining chef.
"It was like art – everything was fresh, and no tins were used which is just how it should be, but it comes with a price, and we were able to do this as we had customers who were able to pay for that."
In his early 20s Lutz was one of the youngest sous chefs with InterContinental in Europe but after working too many nights and public holidays and to get away from doing compulsory army service for West Germany, Lutz went and did more study, this time a BA in Business Economics and Administration.
"After I did my study, I did training as an accountant and was Financial Controller with the Hilton at Hyde Park in London."
With travel always on the mind, Lutz continued to study languages at night and now speaks three languages fluently – German, French and English.
The world of hospitality and finance would see Lutz work in Dusseldorf as Assistant General Manager for Hilton and the lure of a better and warmer life for his two kids and wife landed a dream job on Hamilton Island in the Whitsundays.
"I put the feelers out after applying for a professional visa to Australia and got the job at Hamilton Island.
"I remember I came off the plane in a pin-stripe suit and they said, 'who are you?' and I said, 'I'm Lutz and I work here' and they said – 'not in that!' I looked out of place!"
The first three months the family lived in the Presidential Suite and then were in a two-bedroom apartment where the beach was literally their next-door neighbour.
For two years the family lived, worked, and schooled on Hamilton Island and adapted to the lifestyle as Lutz says, 'like a fish to water'.
Knowing that life on the islands wouldn't be forever with children nearing high school, a friend who was now at the Accor in Twin Waters asked Lutz if he would come down and look at the books.
"It was so nice at Twin Waters, and we turned that resort around."
"We had family at Buderim and here was the right place to stay.
"I never looked back; Australia is so good- here is just fantastic.
"Where else would you want to be?"
After ten years at Twin Waters Lutz had stints in Brisbane opening hotels such as the Sofitel and wanting to be closer to his daughters moved back to Mudjimba and took up a job in local government on the Sunshine Coast where he was an almost too efficient worker for the public system!
After a long career working in high-end hospitality and financial roles, jobs of that calibre were not readily available on the Sunshine Coast and always wanting to keep busy, Lutz volunteered with Meals on Wheels at Coolum.  
Little did the Meals management know that they had a high-end chef who had worked in Michelin star restaurants casually helping out in their kitchen.
"I like helping others and then I was told to come and help out at Maroochydore and then the girl who was at Coolum retired and I just took over."
"I just love it at Coolum Beach Meals on Wheels – its part time and only four days a week and from my side it's not the huge salary but at my age I am not after that, and I never stopped cooking over the years – I'm a foodie!"
Lutz said that one of his challenges has been changing the perception of what Meals on Wheels meals should be and that it is not 'slop'.
"I started changing that by putting a bit of garnish on and making sure presentation is nice – all the little things and making sure the quality is there."
And something must be working with a 64 per cent increase in clients this year.
Lutz also keeps very busy with Coolum and North Shore Coast Care as their fundraising calendar co-Ordinator which came about from a need to keep busy.
"Years ago, I decided I needed to get outside and with no idea about plants, I decided to join the weeding crew at Coast Care.
"It's so friendly at Coast Care and when you're bored you do things and previously, I did a cert IV in design and decided to help out with the calendar when I heard that was something that they did."
But Lutz is quick to let everyone know that with Meals on Wheels and with the calendar he is just one part of the 'team'.
"It's not just me… there's so many more that help and that's what is so nice about here, it's still so very down to earth here."
Lutz finishes our chat by informing me to tell everyone that both Meals on Wheels and Coast Care are always looking out for volunteers and under Lutz's guidance and humour a fun and rewarding volunteering time is sure to be had.
Do you have an interesting person that you think the Advertiser should feature? Send in your suggestions to editor@coolumadvertiser.com.au