PRESENTED BY RED CHAIR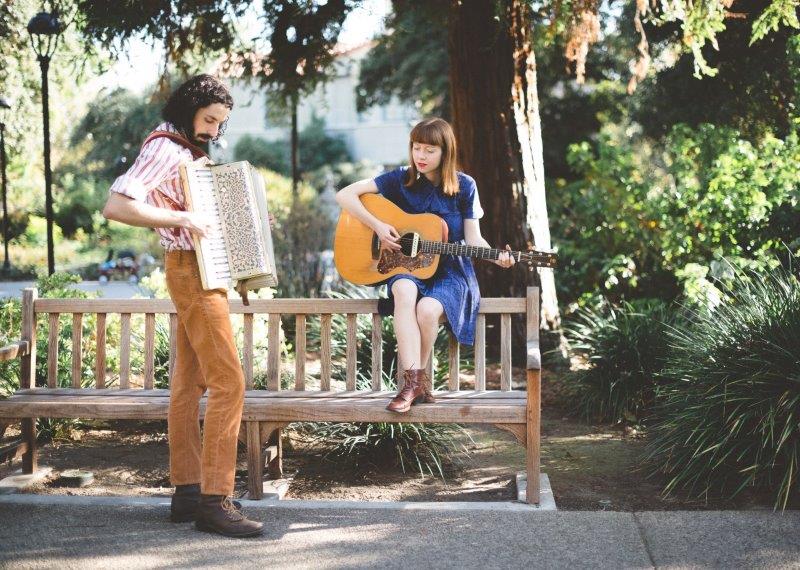 ANOTHER year of standout musical offerings featuring a rich tapestry of musical styles and artists produced by local arts group Red Chair is kicking off with a concert series by 'Those Folk' set to take to the stage at the Coolum Civic Centre on Saturday, February 18.  
With a sound inspired by iconic duos such as Simon and Garfunkel, 'Those Folk' make not just folk music, but music for all sorts of folk.
Comprising husband and wife duo, Lawrence Menard (USA) and Clare Quinn (AUS) Those Folk bring breathtaking vocal harmonies alongside guitar, accordion, banjo, harmonicas and percussion to the stage and their music is wrapped up in a charismatic, authentic, and thoroughly entertaining performance which will be a night not to be missed.
Louisiana born and California raised, Lawrence Menard is known for his musicianship, bringing songs to life with his distinctive style. With a passion for authenticity and doing things the old- fashioned way, Lawrence's music has been influenced by everything from early folk roots to 1960's rock n roll.
Hailing from Southeast Queensland, folk singer Clare Quinn is known for her distinctively effortless vocals and her stage presence exudes warmth and makes audience members feel like longtime friends.
After meeting on the streets of Edinburgh in Scotland the pair have been an inseparable duo ever since and their music explores love, hope, belonging, and the human condition. Their genuine stage presence and joyful melodies will have Coolum audiences smiling right from the start and all the way through to the encore.
Clare said it was an honour to be playing to the Sunshine Coast community and bringing people together through their music.
"The culturally rich community of the Sunshine Coast is something we're proud to be a part of and our hearts are overflowing with all the good times we've had lately.
"For our Southeast Queensland tour we'll be performing in some of the best venues in the region and we're going to dive deep into our original songs and the stories behind them, and weave a concert of light and shade."
The Those Folk Sunshine Coast tour is presented by local performing arts company Red Chair with the support of the Queensland Government through Arts Queensland. This initiative was supported through the Creative Industries Investment Program and is jointly funded by ArtsCoast through Sunshine Coast Council's Art and Heritage Levy and the Regional Arts Development Fund in partnership with Queensland Government.
Sunshine Coast tour dates –
Saturday 11 February: The Majestic Theatre (Pomona)
Saturday 18 February: Coolum Civic Centre
Sunday 19 February: Eudlo Hall
Thursday 2 March: Maleny Community Centre
Full Event Details via – www.redchair.com.au