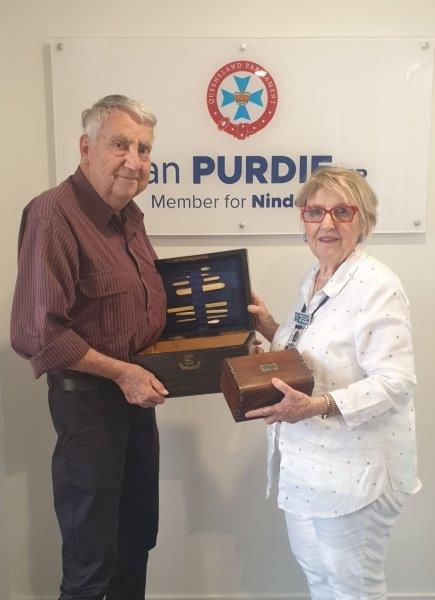 Two rare artefacts found in a Coolum garage are set to become part of the QCWA's heritage collection which is located in Ipswich.  
Coolum local Lance Barrett found an antique sewing box and tea caddy, circa 1790 when he cleared out his garage earlier this month.
He believes both items, which have been in storage for many years, belonged to his late great-grandfather and originated from the United Kingdom.
After reaching out to his local MP Dan Purdie for advice, Mr Barrett got in touch with the CWA Eumundi, who jumped on the opportunity to add the rare items to their State collection.
Mr Barrett said he was pleased the two items had found a new home, which would ensure their rich heritage was preserved.
"It seems to me it would be shameful to see these historic items lost to our future generations," Mr Barrett said.
"I am just so grateful the Eumundi CWA has taken such an interest in seeing them properly stored, and thankful to Dan for his time and effort in ensuring these items ended up in their safe hands."
Eumundi CWA spokesperson Janet Millington said the two items were collector's pieces that provided a remarkable insight into earlier generations.
"One of Dan's strengths is knowing the people in his electorate," Janet said.
"CWA Eumundi is grateful for the connection with Lance and his extraordinary gift which will have a good home in the QCWA Heritage House in Ipswich, where it will be on display to reveal more about the lives of early women settlers in Australia."