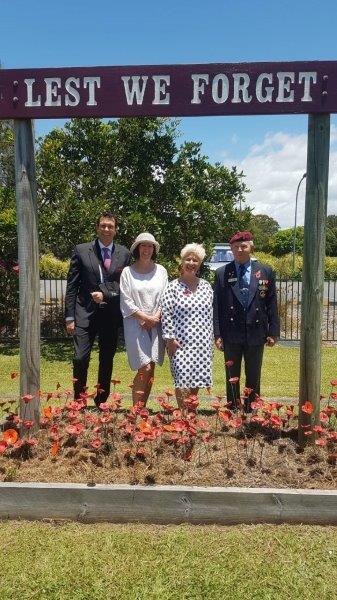 A warm and sunny Coast day provided the perfect backdrop for services commemorating the 104th anniversary of the Armistice at both Coolum-Peregian RSL Sub Branch and Mudjimba RSL Sub Branch this year.
Coolum Clayden Potters Group members were busy leading up to this year's Remembrance Day, creating over 200 clay poppies to create a poppy garden installation at the Coolum-Peregian RSL Sub Branch. Clayden president Sharon Richards came up with the idea to bring the neglected flower bed back to life after seeing similar installations becoming popular in the UK.
"We started this project at the beginning of the year, and it was wonderful to see the idea come to life," said Sharon.
"We had great help from some members of the Coolum Men's Shed who drilled holes for the poppies into pieces of hardwood so that we could thread them through to keep them securely in place."
While Sharon says that the installation is quite sturdy, that particular garden bed is exposed to the elements, so it's likely that it will be dismantled and reinstalled again in time for Anzac Day 2023.
In Mudjimba, dignitaries and guests arrived to the sweet scent of jasmine and the stirring sound of bagpipes played by Lachlan Innes from Sunshine Coast Pipes and Drums. Students from Good Samaritan Catholic College delivered the Welcome to Country, with Pacific Paradise State School students presenting a reading of the poem In Flanders Fields and members of the Bli Bli State School Choir performing two songs of remembrance. Members of the 207 SQN Australian Air Force Cadets formed the Catafalque Party mount, and a powerful and touching Commemorative Address was delivered by COL Clay Sutton (Rtd).