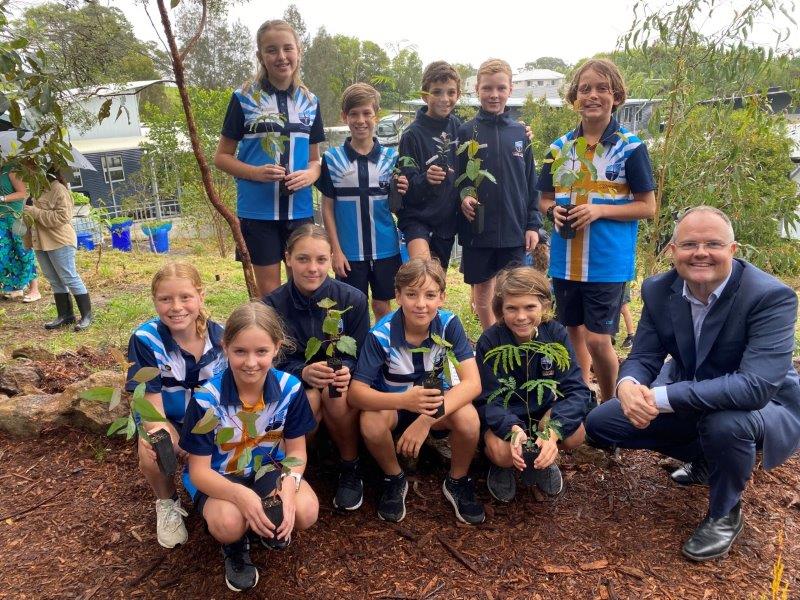 STUDENTS at Coolum Beach Christian College will remember Her Majesty's seventy years of service for years to come, thanks to a Federal Government grant to plant native trees on their campus.
Federal Member for Fairfax, Ted O'Brien attended the tree planting event with students, teachers, and staff last week to commemorate the life of Her Majesty, Queen Elizabeth II and celebrate her Jubilee year.
The grant will be used to plant a row of Australian native trees lining an interior road of the College to create a special place for student lunchtimes, casual walks, and general recreation.
Mr O'Brien said that planting trees would provide a meaningful way for the school community to remember the extraordinary life of service of our late Monarch.
"All tree plantings will be Australian natives, adding to the food source of the local koala population and providing a lasting tribute to Her Majesty for generations to come."
Coolum Beach Christian College Principal, Mr Terry Hornby, said the plantings will include a formal arrangement around a statue of an eagle with an explanatory plinth and plaque commemorating the Jubilee.
"Teaching children is a privilege and growing children surrounded by growing trees has a beautiful symmetry for our community."
The tree plantings will be undertaken by students across all year levels – they will research, plan, and do the work themselves.