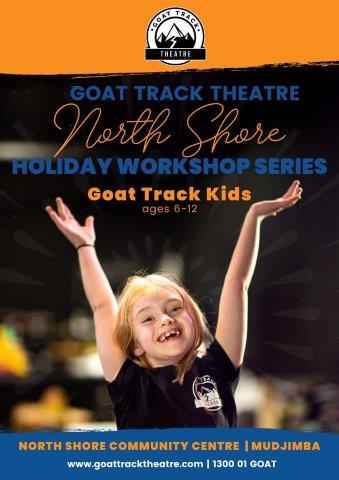 TAKING up residence over the school holidays at the North Shore Community will be the talented and unique 'Goat Track Theatre' that will be providing awesome school holiday entertainment.  
From September 26-30 Goat Track Theatre will be in residence with their award-winning team at the Mudjimba-based centre, and the week-long program is tailored for children aged  6-12 and will feature an amazingly diverse program of drama and theatre workshops for children that is sure to leave them with a smile from ear to ear. 
Families can leave their children in the second week of the school holidays each day from 9am -5pm as the Goat Track team take participants through an energetic and engaging program that includes fifteen individual workshops covering acting for stage and film, puppetry, mask and movement, improvisation, comedy and clowning to name just some of the exciting offerings.
Participants can choose to attend for the whole week or just for the day with Artistic Director Andrew Wright stating that the week-long program was designed for primary school ages who have a passion for acting and performance and those who are also new to performing arts.  
"There's a huge amount of variety in the program with lots of fun to be had throughout the week. A lot of children get their first real taste of drama and theatre at one of our school-holiday experiences so we're all excited to get the week underway."
North Shore Community Centre Manager, Clare Siebel said that they were looking forward to hosting the group.
"We're really excited to have a company of Goat Track Theatre's reputation set up shop at our lovely centre for the week and for it to be filled with the kind of high-quality artistic programming that they are famous for.
"We are also excited to announce that as of term four we will be having Goat Track Theatre as a permanent artist-in-residence to entertain, educate and inspire the children and young people of our local community."
Tickets for the week are now on sale at https://www.goattracktheatre.com/sc-holiday-workshops or call 1300 01 GOAT to book or to receive an info pack of the week's program.      
People are encouraged to book ASAP as the NSCC's last school holiday program sold out – if you're interested it is best to 'act now.'  Regular classes for Goat Track Theatre will commence from term 4 at Peregian Beach Community House, Coolum Civic Centre, and North Shore Community Centre.