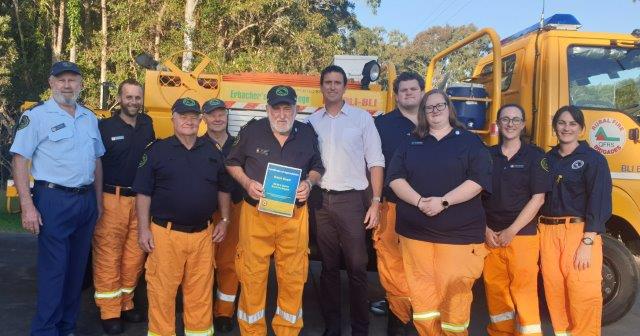 LOCAL Bli Bli rural firefighter Kevin Guyer's impressive service record of 22 years (and still counting) was acknowledged recently as part of Rural Fire Service Week.
Ninderry MP Dan Purdie presented Mr Guyer with a special service certificate to honour his achievement, which was also celebrated by his fellow volunteers at Bli Bli District Rural Fire Brigade.
For many years, Kevin took on an additional role to his fire-fighting duties with the Bli Bli brigade, taking on responsibility for the maintenance and cleaning of the station and equipment in his role as Equipment Officer.
Long after other volunteer fireys headed home after a long shift on the frontline, Kevin would remain at the station, making sure everything was properly cleaned and ready to go for the next call out.
While Kevin decided it was time to step down from his committee role recently, he remains an active and much-loved member of the Brigade.
"Kevin is the epitome of the spirit that is shared by all our volunteer rural firefighters – always ready to give 100 per cent in an effort to help others, and keep our community safe," Mr Purdie said.
"Rural Fire Service Week is an important opportunity to say thank you to all these dedicated men and women throughout our region who give up their free time to serve the wider community."
First Officer Nigel Kemp said Kevin's committee role would be hard to replace due to the incredible effort he has put in over the years.
"His passion for the brigade is second to none.
"His replacement will surely have big shoes to fill, but I'm sure his partner Nancy will enjoy having him home some more."