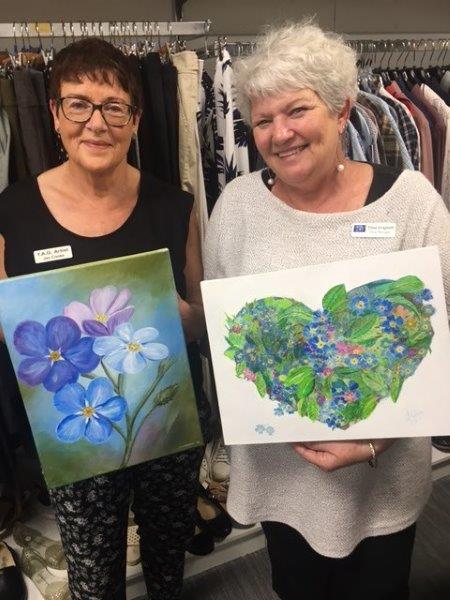 More than twenty local artists have pooled their talents to support Katie Rose Cottage Hospice in an unusual fundraiser—a silent art auction that started on Monday, August 1 and will run for two weeks.  
The Hospice is a fully accredited, not-for-profit, 24/7 palliative care service providing for those in the community facing a terminal illness.
The service is provided at no cost, however, being a not-for-profit organisation, all donations are gratefully accepted, and all end-of-life care is provided by a team of professional, registered nurses, carers, and volunteer carers. 
As well as being shown on the Katie Rose website, the artworks comprising 33 paintings, embroidery and a mosaic which have all been donated will also be on display at the hospice Op shop in Tewantin.
Called the Forget Me Not Project, it is being organised by Tinbeerwah Art Group co-ordinator, Jan Cooke, and the Tewantin shop manager, Tina Grigson.
The auction originated from an idea the Katie Rose Maroochydore Op shop had of a display wall of art and craft featuring the forget-me-not flower which is the hospice logo.
When the idea was mentioned to Jan Cooke, she contacted Tina and from small beginnings, the idea of auctioning donated artworks featuring the forget-me-not and other works developed. 
The paintings will be put on display from Monday, August 1 through to Saturday, August 13 at the Tewantin Op shop which is located at 5/8 Ponciana Ave.   
A photo of each work will also be put on a Katie Rose website.
One item which is expected to attract interest is an exquisite, highly coloured glass mosaic featuring forget-me-knots by visually impaired artist Gail Davy, of Tewantin, who did it mostly by touch.
Please support this worthy cause and register your bids via – https//app.galabid.com/artauction