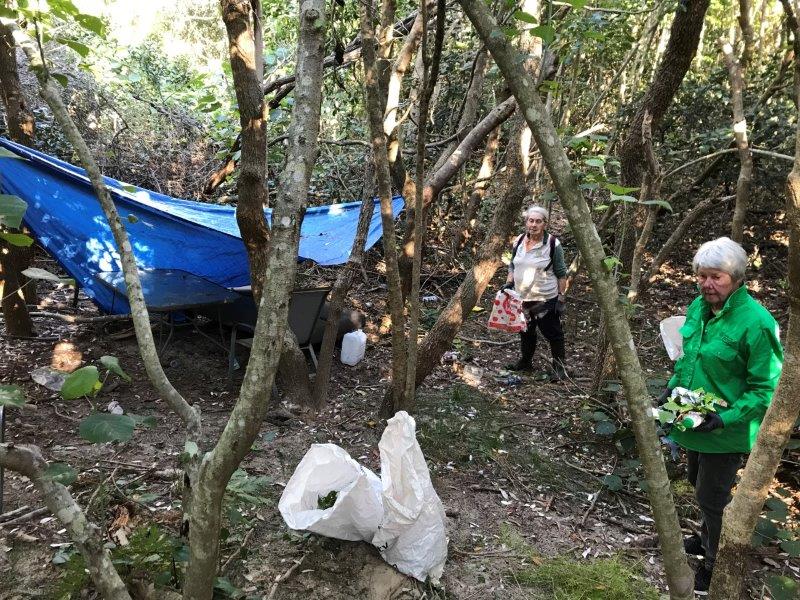 THE watercourse warriors who meet each week on Monday and Thursday to maintain the patch of land known as the watercourse which runs from the first cutting at Stumers Creek Road to the exercise equipment in Norrie Job Park often come across the relics of homeless camps whilst conducting their weeding and planting.
Volunteer Linese Norrish stated that they come across some 'camps' that are simply left and abandoned and with that, a mess is also left behind.  
"We often come upon tents where homeless people have been (or are) living. They abandon the site and leave a lot of rubbish which can include cans, bottles, smoking implements, clothing and furniture.
"The abandoned site in this picture was surrounded by litter which four of us removed last Monday, July 11…but we could not carry the four chairs, table, stool, and lounge. However, one of our team assisted our Conservation Officer on the morning of July 14 and they loaded her trailer with the furniture to be taken to the dump." 
Linese further went on to say that this was the second abandoned campsite that the volunteers had come across in as many months.  
"We removed a load of rubbish plus a mattress and a doona. I don't know how they were brought in as there is no vehicle access."
Linese also stated that the group know of people living rough in the dunal area.
"We know of one tent where a homeless person is living, and the site is clean and free of litter, so we respect their privacy and appreciate that they do not create more work for us volunteers."