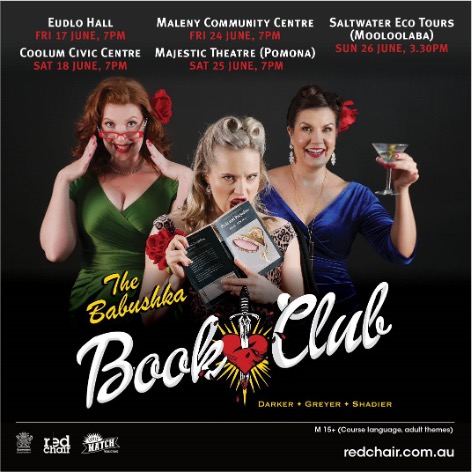 THIS SATURDAY night the Coolum Civic Centre is set to be the stage for a cabaret performance on the 'darker, greyer and shadier' side with the cabaret group 'Babushka' performing their deep dive into the world of all things literary for the "Babushka Book Club' – a book club that is definitely not like the usual run of the mill fare!
The three unlikely bibliophiles of Babushka deconstruct the classics and try to look smarter than they are, all whilst drinking a lot of pinot grigio and this Matilda Award-winning cabaret group is inviting you along for one night only of literary, cabaret and comedic fun in Coolum.
After performing to rapturous applause at the Queensland Cabaret Festival, Melbourne Cabaret Festival and Adelaide Fringe Festival, Babushka wants to discuss some serious literature, sing some killer tunes and expand the membership of their bawdy book club.
The Babushka Book Club dives into the pages of your favourite novels – be it chick lit, the NY Times best seller, or the well-thumbed erotic thriller on your bedside table (we know you have one).
Be entertained by a wickedly funny cabaret that features the iconic music of Kate Bush who is literally running up the charts right now and Bananarama through to Billie Eilish, as Babushka turns your best-loved novels inside-out and colours them various shades of grey. 
Babushka gives Elizabeth Bennett a make-up tutorial, slaps the handcuffs on Christian, and says 'boy, bye!' to Heathcliff. These licentious literary critics, (who totally read the book before they saw the movie), demand a fresh look at Jane Austen and many, many more.  
The Babushka Book Club Sunshine Coast tour is presented by local performing arts company Red Chair with the support of Arts Queensland through the Touring Queensland Fund.
This Coolum show is not to be missed and tickets are just $30 for the event which will run from 7-9pm this Saturday June 18. For more information, please visit www.redchair.com.au
Please note that this is a strictly M15+ event (Course language, adult themes).