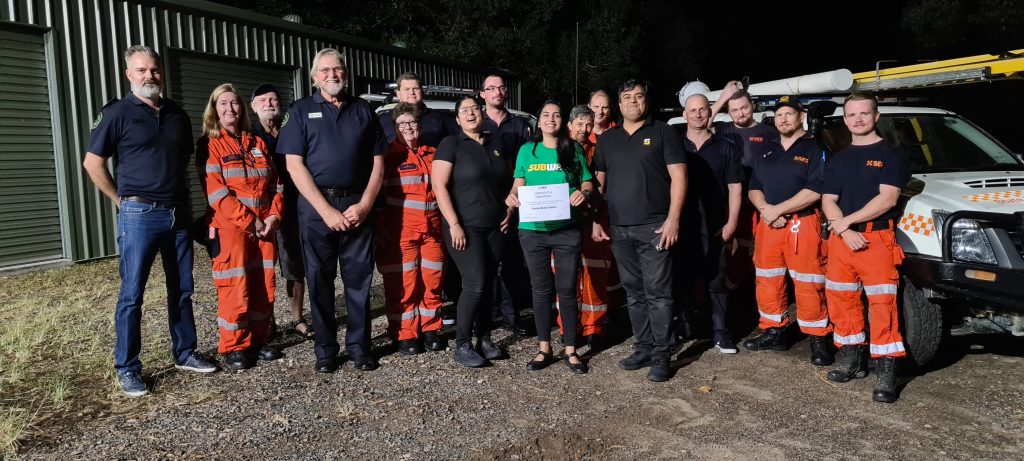 VOLUNTEERS from the Coolum State Emergency Service (SES) recently held a "thank you" BBQ to show their gratitude for those who have helped so far throughout this very trying year. Representatives from other Rural Fire Service brigades located at Valdora, Maroochy River, Bli Bli, and Verrierdale came along as well as Coolum Subway owner Preeti Gazra, and Domino's Coolum manager Simon Scott – all have shown unwavering support during the February rain and floods and during our latest wet weather events.
The 2022 wet weather season has been exceptional, as the region received above-average rain and flood levels from Summer and into Autumn. 
During the February weather event, the Coolum SES crew received more than 100 requests for assistance which meant all hands on deck for the 15 local SES volunteers.
Coolum SES Group Leader, Brendan Jones praised those involved for lending a helping hand, including the local Subway owners who kept volunteers fuelled with food and ready to work.
"What an amazing job our emergency service volunteers have done, turning up to fill hundreds of sandbags, assisting property owners, tarping roofs, removing fallen trees from driveways, and just lending a hand where needed," Brendan said.
Brendan stated that so far this year the Coolum SES had attended to 130 callouts/jobs.
"In comparison in 2018, we maybe attended to 24 callouts for the entire year." 
Brendan also wanted to let the community know that there was no better place to volunteer than with the SES.  
"With the SES you get transferable skills such as leadership and how to work in a team, using imitative and how to think on your feet.  
"I really cannot thank our volunteers enough – kudos to them.
"Just think about the volunteers who have to work full-time but still go out in the middle of the night to help others- it is just amazing what they do," Brendan said.  
The SES performs a range of functions to respond to local, state, and national disasters and emergencies. If you are interested in becoming a member of your local SES, visit the Queensland Fire and Emergency Services website qfes.qld.gov.au to submit an expression of interest, or contact your local SES Office.
Later in the year the Coolum SES will be celebrating 41 years and will be once again encouraging the community to get prepared from September for the summer storm season.
The Coolum SES covers the towns from Pacific Paradise up to Peregian Springs and out to Eumundi and Verrierdale.