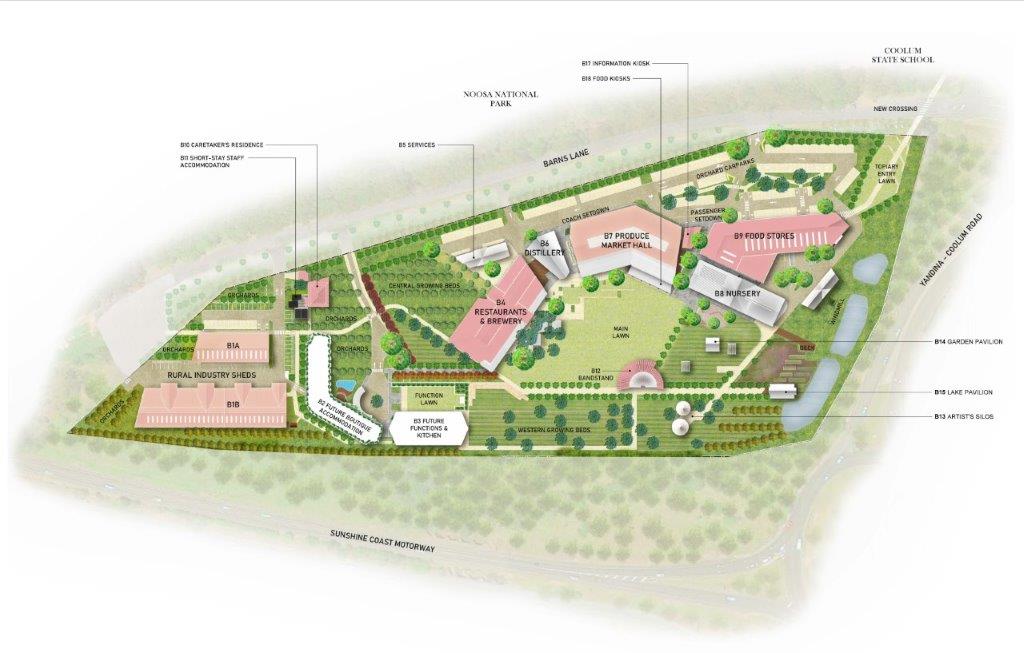 A SITE adjacent to the Sunshine Motorway, off Barns Lane in Coolum will become home to one of the largest tourism destinations on the Sunshine Coast, with Sunshine Coast Council giving development approval to the Barns Lane Farm just last week.
The parcel of land was originally proposed as the site for a major hardware retail shop, however, this application was not given the go-ahead on three separate occasions by council and was subsequently sold by the hardware giant.
A new development application was quickly proposed by a new developer and has been approved.
The agri-tourism venture will be set across 6.8 hectares and centre around a paddock-to-plate experience. It will showcase the region's 'best of everything' and connect locals and tourists with the hinterland. The 2,000 sqm Produce Hall will trade seven days a week and house over 50 short-term and long-term stallholders.
Co-founder and developer Jason Grant said the Produce Hall will provide a never-before-seen opportunity for local producers, without being subjected to trading restrictions and weather conditions
"It will offer multiple connections to the market including selling direct to the public and supplying on-site restaurants and vendors.
"This will cater to the many tastes and needs of families and foodies."
The development will also feature a distillery, brewery, dining, adventure play areas, animal farms, tours, a performance stage and much more.
Division 9 Councillor Maria Suarez said that the development was a positive example of how a developer and community can work together – especially when the developer works with and listens to the local community.
"They were aware of protentional issues and concerns and worked with the community and kept everyone informed, as a result of all of this, all of the submissions that came through were in favour – even though this particular development is a little different," Cr Suarez said.
The news of the approval has also been welcomed by tourism, industry bodies and local stakeholders with Visit Sunshine Coast CEO Matt Stoeckelf expressing how much of a win this will be for the region.
"There is a huge demand for agri-tourism experiences and this new product will go a long way in cementing our profile as a leading agri-tourism destination."
Coolum State School Principal Anthony Ryan added that the development will have positive benefits for the school.
"Having this on our doorstep is exciting. We've already implemented Barns Lane Farm themes into our curriculum, and we look forward to furthering partnership opportunities."
It's expected Barns Lane Farm will create over 170 full-time equivalent jobs across a range of industries and provide vast community and educational opportunities. 
Construction will commence soon, with the opening set for mid-2023. Future stages include a 26-room boutique hotel suite and a 150-seat function venue which will be ideal for rural destination weddings and events.

BARNS LANE FARM KEY FEATURES:
Site size: 6.8 Hectares
Over 170 full-time equivalent jobs expected
Will connect locals and tourists with the hinterland
Restaurants and cafes offering paddock-to-plate experience
Over three hectares of productive garden beds and orchards
2,000 sqm Seasonal Produce Hall with 50 short and long-term stallholders
Agri-tech Incubator, 'Dirt Lab'
Events Centre and boutique accommodation
Music and Arts space
Distillery and Brewery