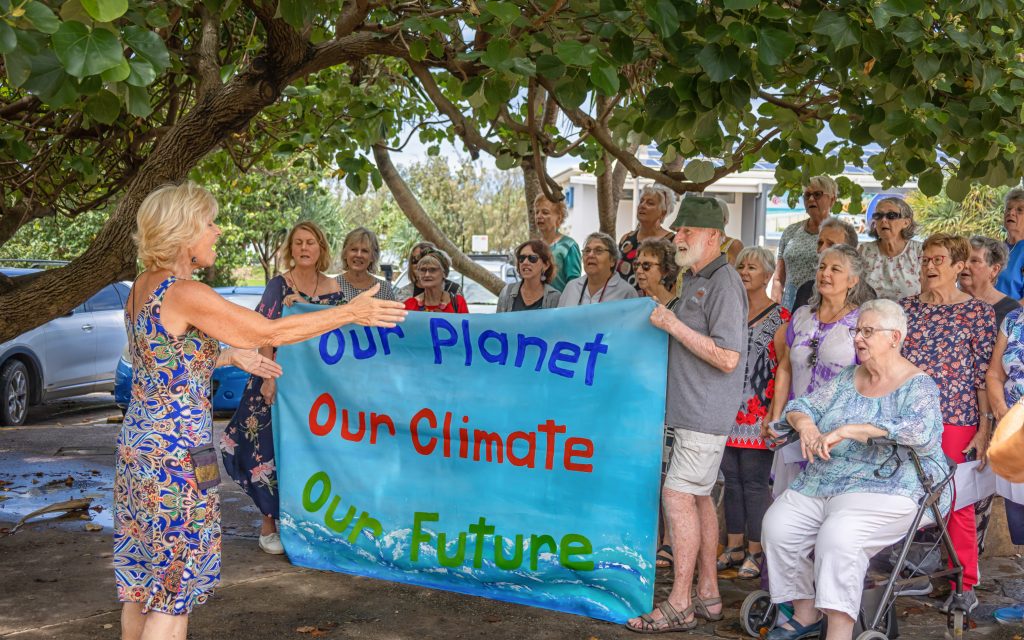 LOCAL choir group 'Cool Harmonies' under the direction of Yvonne Corstorphin, have joined the 'Climate Caravan', which has invited choirs and musicians from across Australia to – sing and make music for the climate. The choirs are being asked to raise their voices for the climate from now until the Desert Song Festival, which will be held in Alice Springs in September 2022.
On a recent Thursday, after their regular session, the Cool Harmonies choir members followed what will become a regular monthly activity by going out into a public space and singing three songs about our climate – unfurling a banner and then standing in silence before rolling up the banner and quietly going home.
People enjoying lunchtime outside the restaurants opposite the surf club were surprised when the group burst into song but were soon fascinated by the music and the purpose of the "pop-up" occasion. Many passers-by and patrons declared that they will be sure to look for the choir again at next month's gathering. Cool Harmonies is a non-auditioned community choir that meets weekly in Coolum to share song, fun and friendship. New members are always welcome and if you would like to join the group in 2022 please contact Yvonne on 0403 013 555.