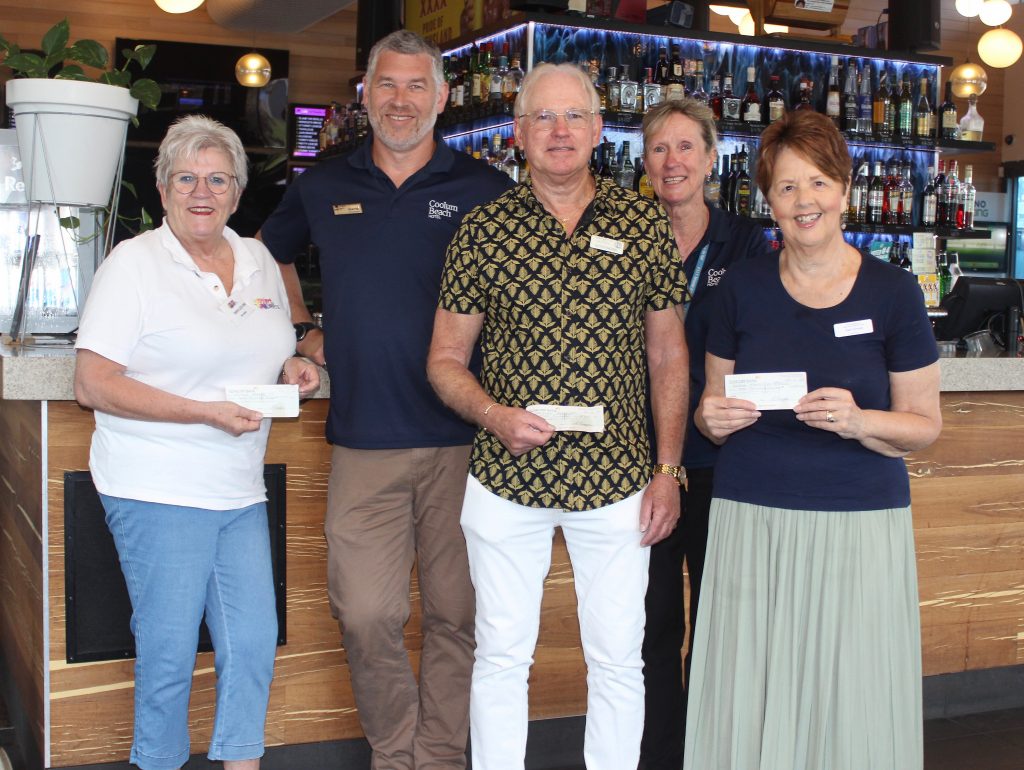 At a time when it is definitely needed the Coolum Beach Hotel gave three local community groups much needed funds as a Christmas bonus by way of their raffles and money collection tins – the recipients; Coolum PROBUS, Coolum Beach Meals on Wheels and Coolum HeARTs were extremely grateful for the act of generosity from the local hotel.
Coolum Beach Hotel (CBH) Venue Manager Shayne Daniel and Bar Supervisor Debbie Kapper were on hand to meet with representatives from the community groups and to hand over the cheques with Debbie stating it was great to be able to give back to the community.
"The money came through from our sausage sizzle on Friday afternoons, the bucket on the bar, our raffle on Saturday morning and one of our patrons – a lovely gentleman would kindly come in with his loose change once every three weeks and I would get a big bag of coins with probably about $70.
"Over the past three months we didn't have a charity to support, so I took this opportunity to give back to the locals," Debbie said.
"All community groups do a great job and this year we have been able to give back more money than we did last year and I'd like to say thanks to management, our staff and patrons – what a good job by all."
Sue Green from Coolum Beach Meals Wheels was humbled to be called up for the money.
"At Christmas we give gifts out to all of our clients, which at the moment is around 95 as we want them to feel like family.
"We also have a BBQ Christmas function for our clients and volunteers and this money will help us pay for these," Sue said.
Keith Symonds from Coolum Probus Club said the money would help with their social outings.
"Probus is a social club for retirees and some are comfortable and some are pensioners and we have a whole range of activities and we will be using this money to subsidise a couple of activities next year," Keith said.
Viv Collins from Coolum HeARTs further reiterated the generous nature of the Coolum community.
"To receive this money is great and it will go towards helping with the general running costs of Coolum HeARTs such as paying for our insurance which has quadrupled this year," Viv said.
The CBH currently have a kids Christmas appeal for the children's hospital with the monies raised from their raffles, sausage sizzle and bar buckets going towards a group donation on behalf of ALH – next time you're having a drink at the hotel, be sure to donate your loose change.