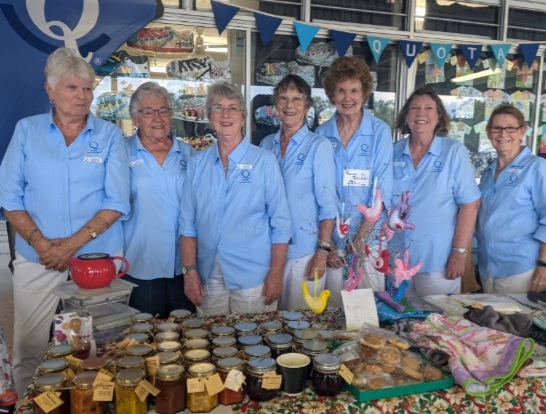 Members of Quota Coolum Beach are well known for having fundraising stalls around Coolum so when they were invited to have a stall at the Coolum State School Carnival in October they jumped at the opportunity. Profits from the sale of jams, chutney's and craft items were donated to the school to support disadvantaged children in the school community with the cost of excursions and camps.
At our AGM on November 9 we made a special presentation and acknowledged Lindy Horton who was presented with a certificate recognising her 30 years of service to Quota and her community.
Lindy was teaching in Kingaroy when she joined Quota International Kingaroy club and on retirement Lindy and her teacher husband moved to Coolum Beach and transferred to the Coolum Beach Quota club. Over those thirty years Lindy has been President many times plus Secretary and many other roles in both Kingaroy and Coolum Beach clubs.
When Lindy first joined Quota the rules were very strict with only one person from each profession allowed as a member. That did not sit well as Lindy felt it excluded other women. Luckily the rules changed and anyone is welcome to join these days. Lindy has enjoyed the friendship and people she has met through Quota and volunteering in the local community. She loves to encourage other women to join Quota for the friendship, support and social interaction it provides to members. Congratulations to Lindy for 30 years of volunteering and serving the community.
At the AGM Donna Barker was also recognised for her ten years of service to the community as a member of Coolum Beach Quota. Donna is very involved in club activities and has been on the management committee for several years.
Hannah Tebbutt was recognised for her service of five years. This is Hannah's third term as Secretary and Hannah is a very dedicated member of the management team. She was instrumental along with past President Rae Blackney in guiding the club through all the changes that were created when we went through our recent name change.
Thank you to Lindy, Donna and Hannah for their combined forty-five years of service to Quota and the disadvantaged in our community. 
We are always ready to welcome new members to our club. For more information contact Sandra Verrall 0457355734 or secretary@quotacoolum.com.au