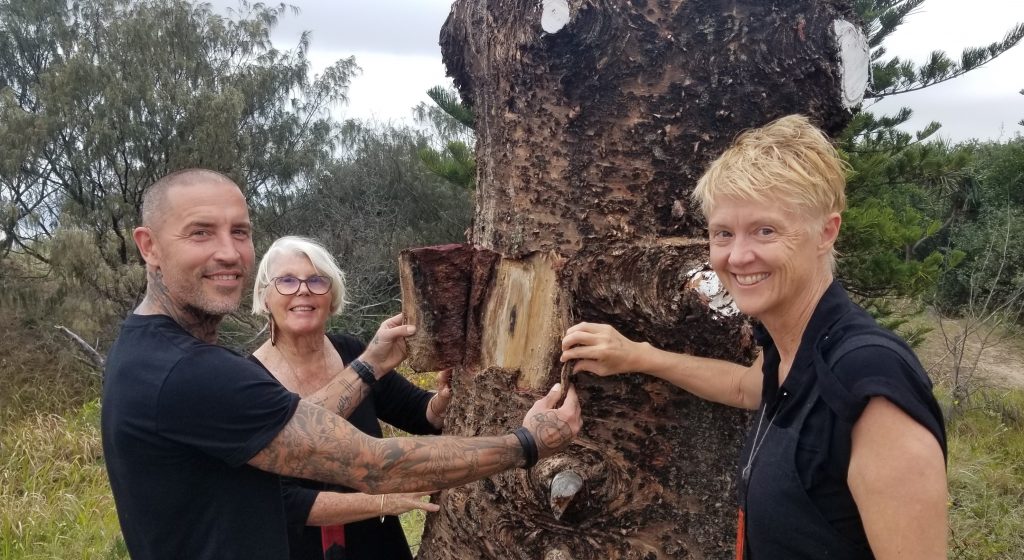 The tree at the Southern beach access of the Peregian Beach foreshore park, which will live on as an art sculpture is thought to have suffered heat stress after the 2019 bushfire that threatened the village.
Thanks to the local community, council and government getting their heads together, the four-metre stump that remains will be carved into a story focussing on the magnificent marine creatures along this part of the coast.
Artist Kay Christochowitz wields a chainsaw with precision and flare and said he is looking forward to embarking on the work soon and to having locals and visitors gain a better appreciation of the magnificent marine environment that surrounds them.
PBCA's bushcare coordinator Rochelle Gooch will oversee native tree planting in the eroded and fire-scorched dunes around the sculpture, while Noosa Council has just erected new railings to protect the dunes from destructive foot traffic.
Ms Gooch said the Norfolk Pine sculpture will gradually weather and erode, but continue telling an important story as the new native trees around it grow in an effort to help protect the fragile dune system.