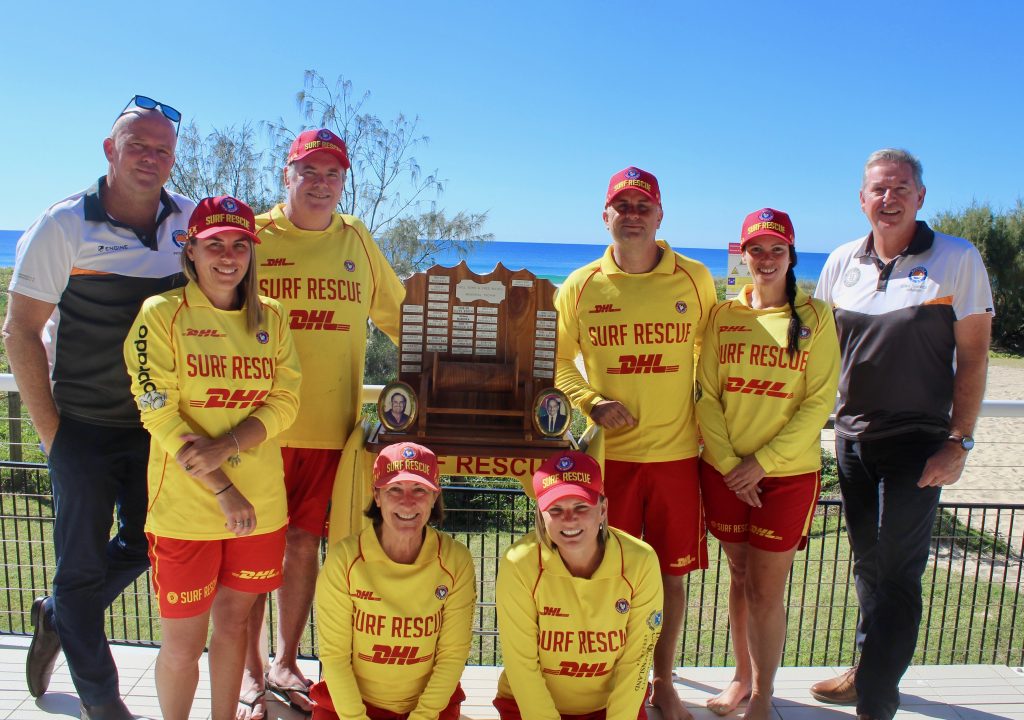 VANESSA BACON-HALL
EDITOR
It's official, Marcoola Surf Life Saving Club has been named the Club of the Year and the team at the helm of the club could not be happier with President Peter Hourn stating that the win made the hard work all worth it.
"We are extremely ecstatic about it all – it's great recognition for all of the hard work that goes in and especially for all of the behind the scenes people."
The win was awarded at the Sunshine Coast branch Awards of Excellence evening after taking into account the club's whole approach to surf life-saving.
Marcoola was awarded Club of the Year from a field of 14 clubs, which includes clubs from Redcliffe and all the way up to Rainbow Beach – this is an impressive win for Marcoola which is looking forward to representing the Sunshine Coast branch at the Queensland State Awards at the end of September.
"We are building from the ground up and the 'Buhk-Wilkes' award which was also presented on the same night recognises excellence which is something we pride ourselves on," Peter said.
Marcoola SLSC also picked up the 'Under 15 Life Saver of the Year' award and the 'Club Spirit' award, which looks at the involvement of cadets who follow on from the nippers and are aged 14-21.
Despite the hardships of COVID, Marcoola SLSC Junior Activities Chair Amanda Janssen said that there was actually positives that resulted from last year and contributed to the award wins.
"Whilst COVID did present challenges in how operations like nippers was run, it did offer positives in that people were seeking out connection and kids were wanting to get out and be outside," Amanda said.
"We found that people want to be connected and there is a place for everyone in surf life-saving.
"You don't have to be the fastest swimmer – you might enjoy cooking a BBQ for our nippers or you might enjoy doing the radio – there is something for everyone, we will have a place for everyone."
Marcoola is actively placing the call out for new volunteers to join the club and for nippers to sign on for the upcoming season with General Manager Drew Palmer stating that there is a real sense of community at the club.
"By becoming a volunteer you get to spend five hours on the beach every third weekend volunteering and potentially saving lives."
Drew further went on to state that the club is also hoping to connect with other community groups by offering a space for them to meet.
"We are happy to let other community groups use our space for meetings as a community centre and we don't want any money for that."
The nippers sign-on day will be held on August 29 from 9am with Amanda stating that nippers is all about, "fun, friends, family and fitness".  
For more information on becoming involved at Marcoola Surf Life Saving Club, please visit – www.marcoolasurfclub.com.au/members/surf-life-saving/