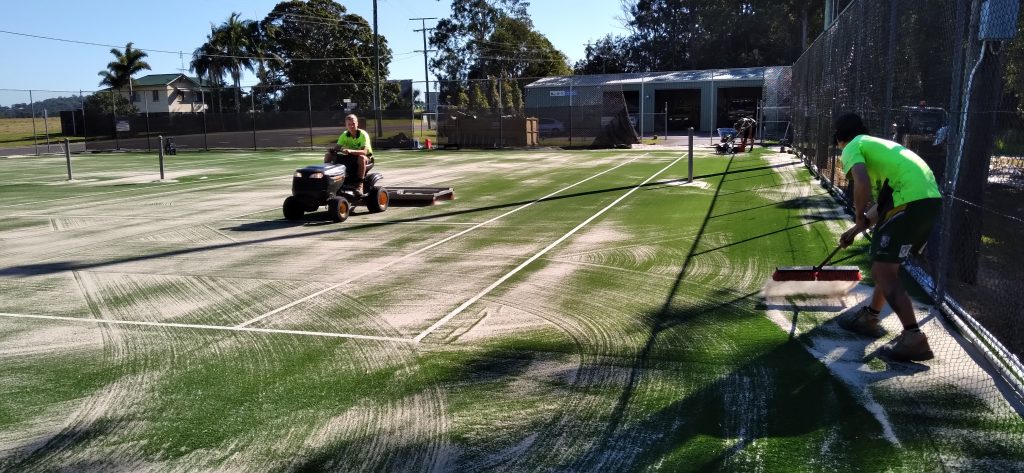 The Bli Bli Tennis Club has recently had a new artificial grass surface laid over two courts.  This was a huge undertaking for the small club but the result is excellent, not only for playing the game but aesthetically pleasing to members and to people passing by – it is an asset to the local community. The men who did the resurfacing came from the Gold Coast but stayed locally.
The men worked long hours, starting at 7am each morning and working through the weekend to complete the work quickly so that the courts would not be out of use for a long period. It will be some time before the sand is properly settled into the base fibres, we need lots of players and some showers to press it down and finish them off.
Funding for this project was received from Club funds, the Sunshine Coast Regional Council and the Gambling Community Benefits Fund.
Prior to the resurfacing of the courts, a retaining wall on the eastern side of the courts was replaced, using concrete reinforcements which were needed to replace the old timber struts.
During the past two years the club has achieved a lot, purchasing new signage; mesh sight screens for more comfortable hitting; an outdoor all-weather blind; timber sunshades on the exterior of the verandah, also a new concrete pathway from the gate to our clubhouse which makes the area inclusive for visitors using wheelchairs or walkers.
The work was done using local businesses and organised by the Club Executive, supported by the committee members, who are all volunteers.
A defibrillator has been purchased thanks to a Discretionary fund grant from Division 9 Councillor Maria Saurez. This will be available for use within the clubhouse.
The next venture for the club is to do some alterations to the clubhouse interior, making the space more user friendly.
Last month, Club Secretary June Gray was recognised for her work in leading the club onwards and upwards during the last six years and June was made a Life Member. A surprise presentation and celebration happened recently; as some wag remarked, "this is the first time June's been made speechless".
We warmly welcome new members and casual players. The courts have lighting for night tennis. Contact details are on the website BliBli tennis @gmail.com. or 0439 099 692.