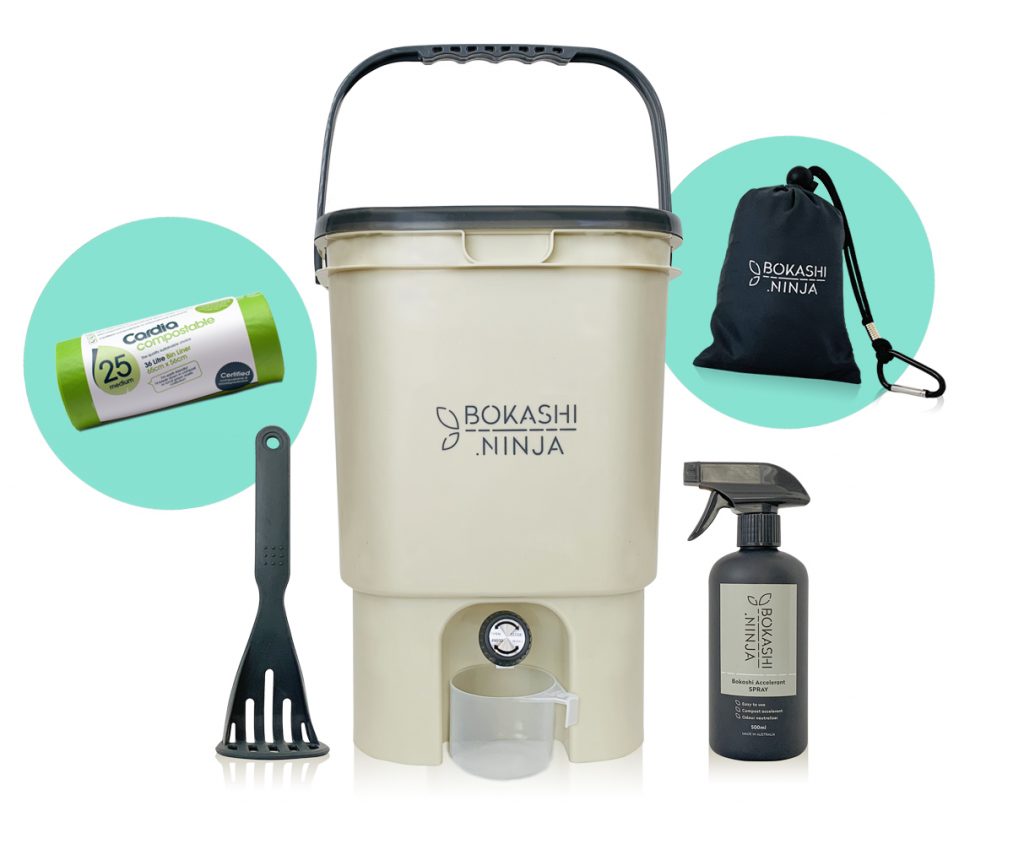 TWO Coolum business women are fighting the war on food waste from the comfort of their kitchen and are encouraging people to look at their environmental footprint this 'Plastic Free July'.
Coolum business partners Jodie Berndt and Shari Krome are co-owners of the 'Bokashi Ninja' – an in-kitchen composting system that has the potential to reduce landfill from household waste by one third. Australians discard up to 20 per cent of the food they purchase and a lot of this ends up in landfill.
The Bokashi Ninja system is leading the way in providing everyday Australians with the opportunity to take responsibility for their household food waste and rather than binning it, turn it into soil enriching fermented matter and Bokashi Juice for plants and the garden.
The benchtop system allows kitchen scraps such as fruit, vegetables, meat, dairy, coffee grounds, tea leaves, leftovers, rice, pasta and more be added to the airtight bucket. The composting process is assisted by the use of an accelerator enzyme that is sprayed onto the solids. A grate separates the solids from the liquid that is produced; which is drained off and used to fertilise plants.
Ms Berndt explained that once the bucket is full, the contents, which are now a fraction of their original volume, can be buried to enrich garden soil or disposed of in compost or the bin.
"The system saves busy families time by reducing trips to the bin and also reduces single-use bin bags, which is both a win for the environment and a cost-saver."
"This Plastic Free July families can make a conscious decision to make a difference to the environment from the comfort of their own kitchen, just by changing the way they dispose of food waste."
The duo, who have lived and operated a marketing agency in Coolum for 18 years, put their business know-how to work focussing on fighting the war on waste.
"Living in Coolum, we became increasingly aware of the need to protect our environment," Ms Berndt said.
"When we saw the statistics, we knew we wanted to be part of the solution to help reduce food waste going to landfill.
"Our search for answers lead us to the Japanese bokashi composting system and we knew it was something every family could easily incorporate into their lifestyle."
The airtight bucket means no nasty odour or fruit flies and because it remains in the kitchen it is a no-fuss way to dispose of kitchen waste.
In recognition of Plastic Free July, the team from Bokashi Ninja have one Ultimate Eco Kit to give away to one lucky Advertiser reader. To be in the running, please email your name, address and phone number to michelle@coolumadvertiser.com.au with the subject line 'Bokashi' by close of business on Thursday, July 29. A winner will be randomly selected and notified by phone.
If you miss out on a bokashi or would like to see more of what the talented waste kicking Coolum women are up to, please check out their website at – www.bokashi.ninja