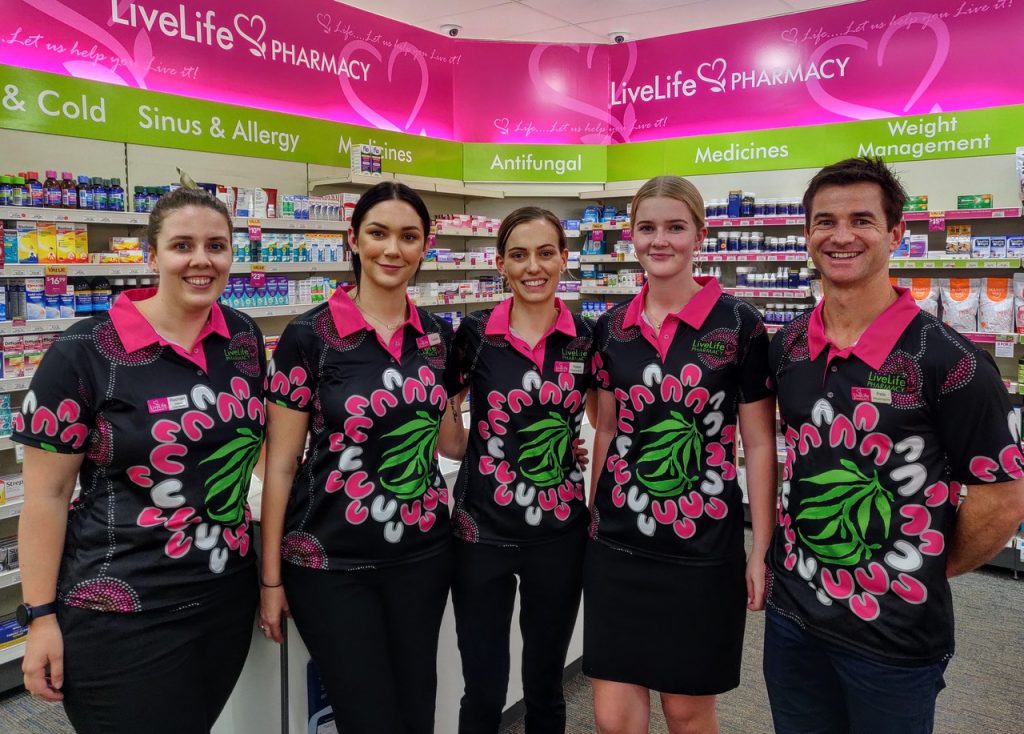 In recognition of NAIDOC week LiveLife Pharmacy staff are swapping their traditional uniforms for colourful Aboriginal-designed artwork in support of National Aborigines and Islanders Day Observance Committee (NAIDOC) Week – in the hope of building stronger relationships between team members and the Indigenous community, the initiative was a joint venture between LiveLife Pharmacy Indigenous team member Holly Adams and her sister Kathleen Tanele.
"My sister and I created the design to represent the role of LiveLife Pharmacy team members; in caring for the health of the people in our community," Holly said.
"As the focus of our pharmacies is healthcare, I decided to add a traditional bush medicine that many Indigenous people have used over a long period of time. It is known as Gumbi-Gumbi and it works as a traditional healing plant. As our main topic in pharmacy is health I decided to add the symbols around the plant as that creates a yarning circle that represents the people, our workers. Pink for the ladies and men in the LiveLife team and the white representing our pharmacists."
NAIDOC Week runs from July 4-11 each year and celebrates the history, culture and achievements of Aboriginal and Torres Strait Islander peoples.
LiveLife Pharmacy representative Clint Coker said it is a great opportunity as an organisation to wholeheartedly embrace and participate in the NAIDOC yearly celebrations.
"We are celebrating the important role of Aboriginal and Torres Strait Islander people in our communities and their connection with the regions where we operate our pharmacies," Clint said.
"By wearing the shirts throughout our pharmacies, we hope to inspire our next generation of children and spark conversations. We are also excited to launch our colouring in competition for 2021, that will allow children in our local community to be part of the NAIDOC Week celebrations."
Entries will be displayed in-store and the winners will be chosen by LiveLife Pharmacy team members and announced on July 24, 2021. To learn more, visit your local LiveLife Pharmacy.