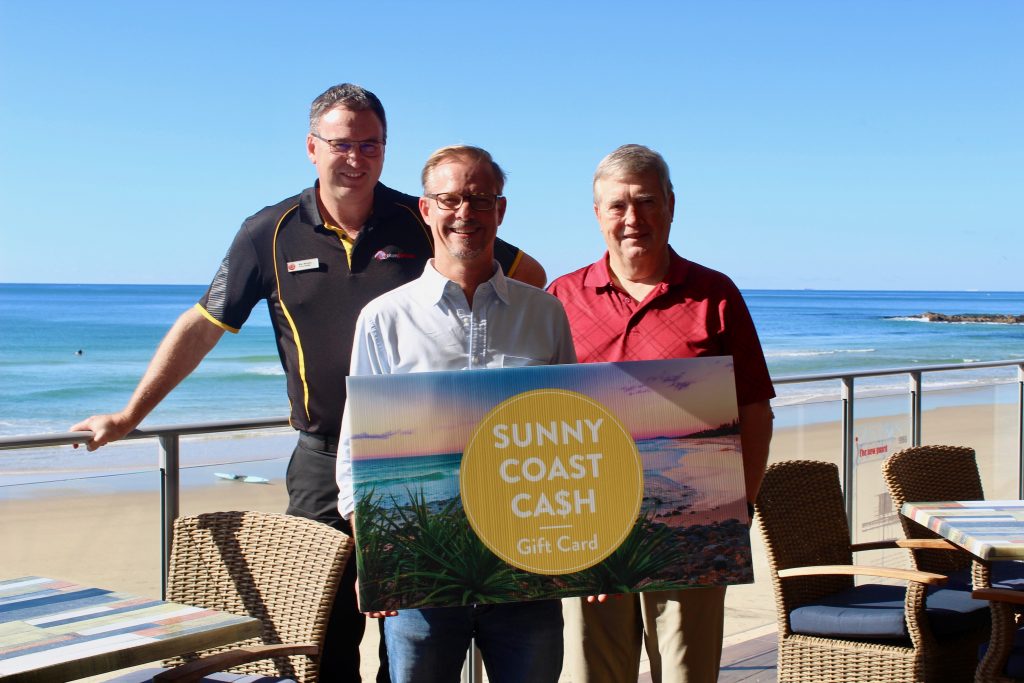 Vanessa Bacon-Hall
Editor
The recent launch of the Sunny Coast Cash Card (SCCC) in the 4573 postcode is a new economic initiative that is aimed at creating local jobs, building local infrastructure and ensuring local products can be acquired locally – all whilst building up the local economy.
Supported in partnership by Coolum Business and Tourism (CB&T) and 'Why Leave Town Promotions' other regions where similar programs have been launched such as Maleny have seen a huge uptake of the cards and a dramatic increase in local spending.
CB&T President Mark Cameron said that the gift cards can be purchased for amounts between $10 and $1,000.
"Our SCCC is similar to other gift cards you are used to, but instead of being used in a single store or shopping centre, it can be used at any participating store throughout the 4573 postcode.
"Just look for the 'Sunny Coast Cash Accepted Here' sign," Mark said.
It is hoped that the local community will get on board this new venture and show their support by buying a card and that as many local businesses as possible will get on board.
"What better way to show your support and give back to your local community than to spend money locally," Mark said.
"Our card makes excellent staff presents, prizes for students and club raffle prizes and Father's Day isn't far away!"
The SCCC is free for businesses to join and Mark explained that all a business needed to get involved was some community spirit and an EFTPOS machine.
One business to jump on board early is the Coolum Beach Surf Club with General Manager Mal Wright explaining that the gift card is a great way to support the local economy.
"A gift card that works for all of the Coolum area is a fantastic concept and it is something that is very marketable to visitors outside of the region.
"This will be a really good gift to give and the fact that it can be used at multiple venues makes it the perfect gift."
The gift card operates like any other EFTPOS card and can be used at any number of stores until the funds on it are spent.
For a full list of participating stores (which is growing by the day) please visit
www.whyleavetown.com/programs/sunny-coast-cash-(coolum)
Cards can be purchased at participating stores and for information on joining the program please call Peter Lloyd on 0412 430 989.