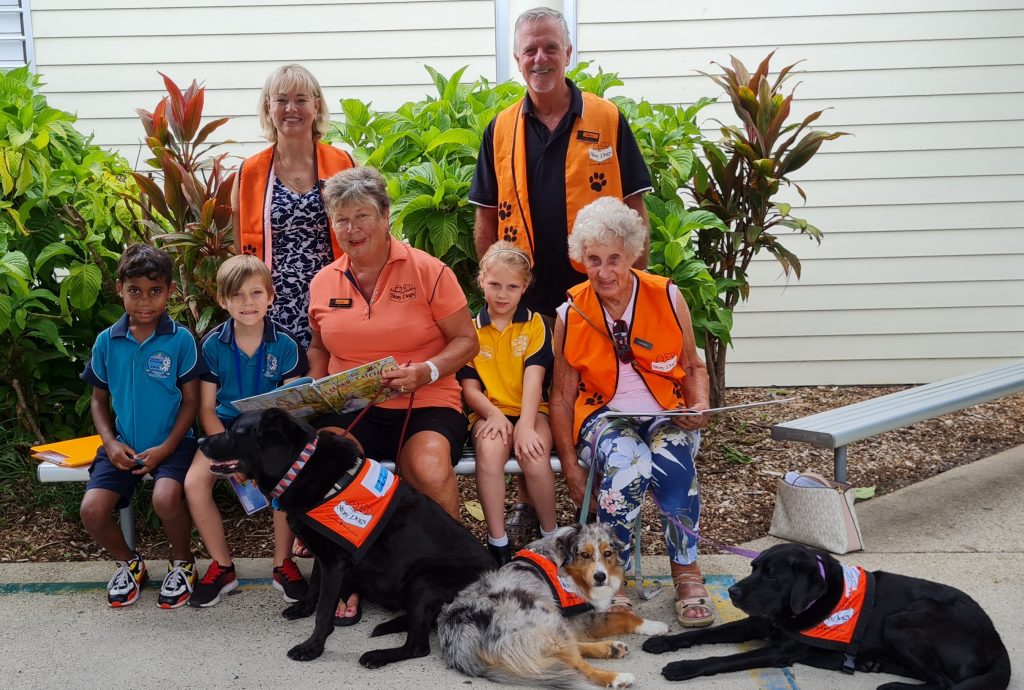 Vanessa Bacon-Hall
Editor
It has been proven that patting a dog releases the feel good chemical cortisol making for relaxing emotions and outcomes and a unique program on the Sunshine Coast pairs dogs with children at school for story time – the 'Story Dogs' who are essentially volunteers help leaner's adjust to reading with the help of their furry four legged friends.
Story Dogs is a not-for-profit charity, which started in 2009 and is now Australia wide and their mission is to make reading fun for children, so they become confident lifelong readers.
The non-judgmental, loving nature of dogs gives this program its magic and helps children relax, open up, try harder and have fun reading to a friendly and calm dog.
On the Sunshine Coast Story Dogs commenced with one dog team in 2016 and now there are around 30 dog teams volunteering in 20 plus Sunshine Coast schools and the unique program is on the look out for more volunteers throughout the Sunshine Coast and Story Dogs also want to encourage businesses and individuals to 'sponsor' a dog team as the not for profit is run entirely by volunteers.
Local coordinator Janelle Lockhart explained that with her dog 'Kara' they started volunteering with the program at Pacific Paradise State School in 2017.
"I was looking for a volunteer position that would make a difference and what I did not anticipate was how much Kara enjoyed her role as a Story Dog. Every week when I got ready to go to school with Story Dogs' special bag, vest for myself and vest for Kara she was very excited and the students and staff made a huge fuss of her each week."
Kara is now 14 years old and has recently retired from listening to students read however she still has an active role in the program – helping new dogs and meeting them at their assessment.
"For people who are interested in volunteering the first step is to do a meet and greet with myself, Kara, yourself and your dog. The purpose of this is to give you information about Story Dogs, for me to ascertain if you and your dog would be suitable and for you to find out if you would like to volunteer in the Story Dogs program," Janelle said.
Volunteers need to commit to two hours a week during school term and need to have the patience to assist students with their reading skills and enjoy making a difference. Full training and on-going support are given to volunteers.
The program is now in Coolum and is actively looking for both volunteers and sponsors, with Ninderry MP Dan Purdie encouraging locals to become sponsors.
"I've been sponsoring a Story Dog at Kuluin State School for the past 12 months, and jumped at the opportunity to be involved with the program at Coolum State School.
"After hearing about the positive results being achieved at other schools, I was keen to be involved when I found out the program was being introduced at Coolum," Mr Purdie said.
"This is a fantastic way to engage young students and help them on their learning journey.
"The children form a real connection with the dogs and their owners and it's wonderful to see their confidence grow, and their reading skills improve," Mr Purdie said.
Dog teams are supplied with all equipment, plus training and dog assessment at no cost and if you would like to become a part of this unique program, please call Janelle on 0431 217 543 or go to www.storydogs.org.au and fill in a volunteer application.