Boo the greyhound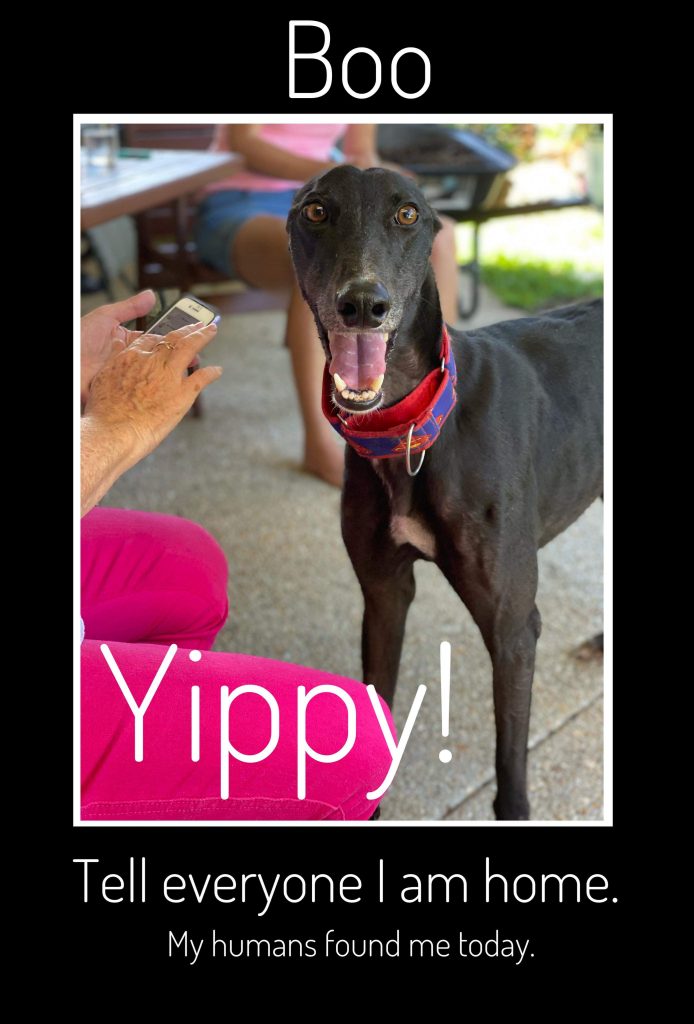 Dear editor,
Boo the rescue greyhound was found on Sunday 11 April following a great effort by many people.  We would like to say a huge thank you to the Coolum community who looked out for him, volunteers who searched and dropped letters into boxes, 'Friends of the Hound' members, those who shared our Face book posts and those who gave moral support and the message to never give up the search.

Many of these Greyhounds had hard lives during their racing career and afterwards. Friends of the Hound www.friendsofthehound.org.au works tirelessly to rescue Greyhounds and adopt them into suitable, permanent homes as family pets and companions. 
Thank you Coolum community. We are privileged to live in such a great community.
Phillip Croft,
Coolum Beach.
##
Illegal dumping
Dear editor,
Not only do our creeks and rivers become dumping grounds for litter, including plastic waste, threatening our wildlife, bush areas and parkland are targets for household waste and unwanted goods.
It is an unconscionable global epidemic, trashing our environment. In local communities we find lazy and selfish individuals and companies using our pristine areas as rubbish tips. It has escalated to a crisis.
This reduces our planet to a limited lifespan, with pollutants directly or indirectly poisoning our waterways, threatening all life. Children worldwide are concerned there is no "planet B" to fall back on. Their message is plain to perpetrators.
In times gone by, households were free to deposit at the local tip. Then councils charged, but provided tip vouchers, to prevent illegal dumping and occasional curb-side pick-ups. It was a logical alternative to dumping.
But councils are their worst enemy. Now no tip vouchers or curb-side pick-ups are provided, leading to illegal dumping. Councils then use ratepayers' money to clean up dumped rubbish. Ratepayers are paying directly for tip visits, or indirectly for illegal dump cleanups. The planet loses.
E. Rowe,
Marcoola.
##
100th birthday
Dear editor,
I would like to thank Travis Macfarlane from the Coolum Advertiser who covered the 100th Birthday celebration for Margaret Simpson on Saturday 3rd April at the Coolum Bowls Club, the front page photograph was very flattering. Thank you.
Sandra Lyons,
Coolum Beach.
##
RELAY FOR LIFE
Dear editor,

Cancer Council Queensland's iconic fundraiser Relay For Life is back in 2021 and is celebrating 21-years of bringing communities together to fight back against cancer.

I would like to thank all Queenslanders who have supported Relay For Life over the last 21 years and am pleased to share that in-person events are recommencing following our temporary switch to virtual events last year due to the pandemic.
Over the years your support has given hope to the 30,000 Queenslanders who are diagnosed with cancer each year.
I'd love to invite all to join a Relay For Life team this year and help create a cancer free future.
I encourage Queenslanders to team up to raise funds in the lead up to their local Relay For Life event. Every dollar raised goes towards funding Cancer Council Queensland's vital research, prevention and support programs, many of which help people in your community every day.

As many of you know, Relay For Life Relay For Life brings communities together to celebrate cancer survivorship, remember loved ones lost and empower teams of families, friends and colleagues to raise money to fight back against cancer.
Relay For Live events will stay with you forever – our local coordinators have great entertainment planned for the whole community, as well as empowering ceremonies, like our inspiring opening ceremony, where cancer survivors and their carers kick off the walk.

Support your local community by either registering a team or taking part in the fundraising activities that will be held in the lead up to the event – together we can make a difference.

To find out more or to register for one of the Relay For Life events in 2021, please visit, www.relayforlife.org.au or call 1300 65 65 85.

Chris McMillan,
CEO, Cancer Council Queensland.
##
MASKS
Dear editor,
According to E. Rowe I am one of those arrogant and selfish individuals currently threatening innocent lives. The Health and Safety website advised on April 10 the Queensland rate of Covid 19 infection was highest in the 20-29 age group; lowest in 80-89 with my 70-79 group being three times lower than in what one would assume is a healthy age range. Fewer octogenarians would account for their low number; and what can I say for my group except that they don't make them like us anymore!
Months ago I crocheted a mask in preparation for it being mandatory in certain establishments. So far I have worn it on only two brief occasions and being virus free I walk among my fellow citizens at a safe self-distancing distance though feeling somewhat an alien among the mask-wearing hordes.
As I am not into making life difficult for those employees tasked with ensuring no unmasked-shopper enters their worksite I wore my mask for a Bunnings expedition and to the Tewantin RSL, though it was a relief to be advised masks were not necessary when eating and drinking.
Were we dropping dead in the streets, circa The Great Plague, then I could understand the need for mandatory mask-wearing, though I doubt it would help, indeed I fail to see how it helps in the current circumstances.
Though I am in the 'vulnerable' age group I am willing to be a guinea pig, free to demonstrate that a healthy immune system/safe-distancing and good hygiene will keep me Covid free.
I will not have the vaccine for the same reason I have never had the flu vaccine. If unwell, I self-isolate until able to rejoin the human herd, thus posing no threat to my fellow citizens!
Linese Norrish,
Coolum Beach.
Please note the opinions and statements expressed in the letters to the editor are the sole opinion of the letter writer and do not express the views of the Coolum Advertiser.