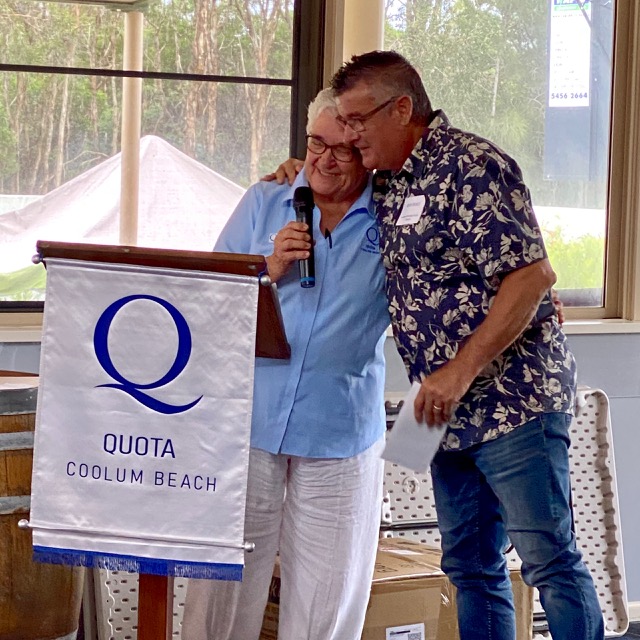 After one hundred and one years of supporting disadvantaged women and children around the world Quota International world wide was dissolved on September 30, 2020. However, despite this members of Quota International Coolum Beach unanimously voted to keep serving their local community and continue with the ideals and values of the Quota club.
On Tuesday March 23 the ladies gathered at the Coolum/Peregian RSL Club for an official renaming event and morning tea.
Quota Coolum Beach members invited special guests to share their excitement of becoming an independent club as well as receive funds and equipment raised by the group. Representative Bernie O'Brien from St Vincent de Paul received some Back Pack beds to distribute to those who require them. Other representatives and recipients included Janelle Logan from STEMM, Melanie Bruhn from Cittamani, Dale and Donna Dowler from The Shack Nambour and Rod Holt from Coolum Christian Family Church (Project Connect) who received cash donations.
The club has had an ongoing connection with Rod Holt since 1995 and the ladies club would like to publicly acknowledge and thank the above organisations for their dedication to the community they serve.
Other than a name change the ladies from Quota want to assure the community that they will still be serving and upholding the ideals that Quota International stood for such as supporting women, children and the disadvantaged in the local community.
Past President Rae Blackney and Secretary Hannah Tebbutt had the task of dealing with the paperwork and legalities of forming the new club, which was not a simple task and took many months of hard work and lots of headaches!
Members are looking forward to some planned fundraising events in 2021 with a 'Tea for Teal' morning tea at the Coolum Beach Caravan Park and a stall selling craft and jams and preserves at Collectorama in Nambour. The ladies are currently raffling a patchwork quilt to be drawn on May 7 just in time for Mother's Day. For more information about the club contact Sandra Verrall on 0457 355 734.