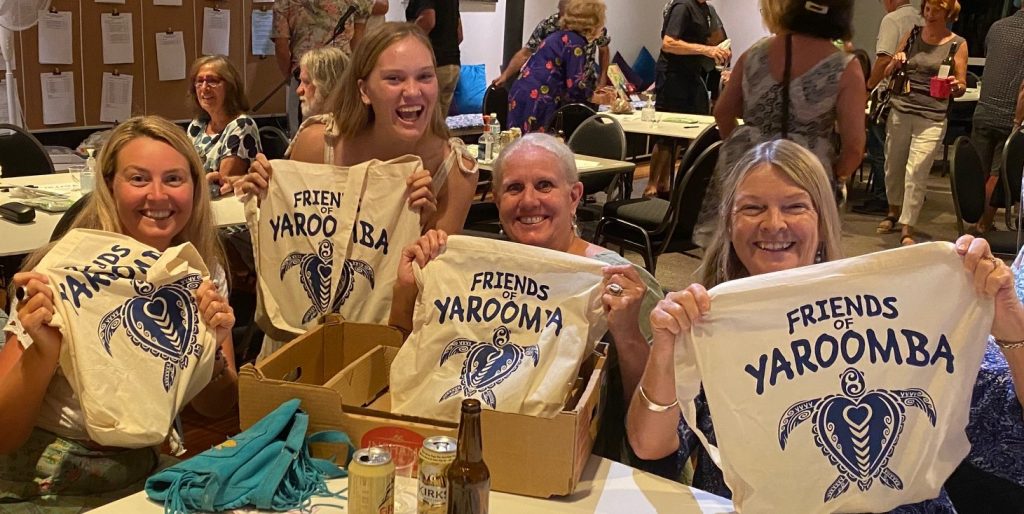 The last fundraiser before the Save Yaroomba campaign heads to the Supreme Court was a sellout on Saturday night with some 80 people testing their local knowledge against each other in a Trivia Night at the Yaroomba Meeting Place with over $4,000 raised for legal expenses.
People from different community groups including Development Watch and Coolum and North Shore Coast Care rallied together with residents both local and from the wider community including Maroochydore and Caloundra for the fun night.
Organisers said there was great support through purchases of dinners and drinks, sweets, raffles and a silent art auction.  Participant Brian Anker said it was fun to meet old and new friends as well as learn some new things about Yaroomba.
"I had forgotten that it used to be called Coronation Beach and that Warran Road used to be called Coronation Road," Brian said.
"This event shows what a great community we have, and thanks to all the volunteer "angels" on the night who always go above and beyond."
Save Yaroomba spokesperson, Kathryn Hyman, said huge congratulations must go to the entire volunteer team and the community.
"In collaboration, over half a million dollars has been raised from 2019 until now to fight this important case.
"That's a hugely significant effort and winning will be a win for communities everywhere as this decision will become a precedent in case law and at its core, this is a fight to defend the supremacy of the planning scheme which cost ratepayers $15 million and should hold all of us accountable, including influential developers," Ms Hyman stated.
"There is a proper process for amending the planning scheme, and that process has not been followed at Yaroomba."
While the Appeal is expected to be heard on March 10, it could be several months before a decision is reached. Contributions towards legal fees are still needed. Internet search Go Fund Me Yaroomba if you would like to make a donation.