Frances Windolf




A long time Coolum resident with a passion for local history
The sands of our times
25th Feb, 2021
It would be fair to say that most people are attracted to our area by our beaches – the waves, or the sandy shore. Grains of sand, small as they may be, are immensely valuable to our economy, and it is interesting to consider the ways in which this value has been exhibited. We are all familiar with the attraction of our beaches and ocean to would-be residents and visitors, as exhibited in local land sales during the last century, especially in today's residential market, but there are other aspects of our beaches which have repeatedly concerned local residents.
Currently, many of our beaches are under stress from activities ranging from proposed building activities to transport problems and sand pumping, and we are concerned for the future. However, beach stress is, unfortunately, not a new problem in our area. Since early in our residential history, the lure of minerals marking our sands with 'peculiar black sand' deposits – rutile, ilmenite, monazite and zircon – has attracted mineral-seekers to our area.
The first recorded venture of this type occurred in 1929, when a syndicate approached the Moreton Sugar Mill Board to transport sand from 'a peculiar black sand deposit' at Coolum to Nambour, for expected sales to Germany. We are told that the cartage was a "very good thing in the way of freight for the mill", but no other records about this venture have been found, and it is possible that the onset of the 1929 Depression quashed the idea.
By the mid-1950s, however, sand mining on beaches on the eastern seaboard of Australia became a keen subject of discussion, as rutile (for titanium), zircon (for ceramics and nuclear reactor elements) and monazite (for thorium, a nuclear fuel), were dry-mined for mineral sands. In February 1956, the Coolum Beach Progress Association 'sent an urgent telegram to the Minister for Mines objecting to mining of frontal dunes'. Indeed, they were so concerned that they also moved to 'have a petition prepared for public signatures' as well. Under pressure from local protestors, the Minister inspected the Coolum area, agreeing that mining companies should be required to protect trees in the area, but 'he repeated the government view that sand mining would not disturb anybody or anything as there were few houses between Coolum and Noosa.'
Fortunately, around this time the government was changed, and historian Helen Gregory tells us that "the change of government and the plan to develop the area for tourism saved most of the beaches from the sand miners but they were permitted to move further north to Fraser Island." Although other attempts were made until 1966, fortunately none were successful and our beaches remain safe – we hope!
---
The more things change …
11 Feb, 2021
The saying, "The more things change, the more they stay the same", seems relevant when considering one of our most discussed local facilities. In 1913 John Parker selected Portion 502, gaining permission to farm that area, while improving it, building a home, and making payments to the Government.
Portion 502 was roughly bounded by today's Warran Road to the north, and Tanah Street to the south, stretching inland to a line roughly running between the southern end of Grandview Drive and Lagoda Drive – most of it known in recent years as the "Hyatt Regency resort", or the "Palmer resort". John Parker built a house where the 17th green now delights golfers, ran cattle on the land, and grew bananas, pineapples and beans for Brisbane markets. However, the area was swampy, soil quality was extremely poor, and this led to Mr Parker and a succession of other farmers, battling to make a living. From the late 1950s the land had reverted to a mixture of swamp and scrub, unsuitable for farming.
When the David Low Way opened in the early 1960s, developers realised that there might be potential in the area. The area covered by Portion 502 changed hands several times, each purchaser dreaming of a great financial future for the location. This came to fruition with the Hyatt Regency resort, described thus by the Sunshine Coast Daily in August 1988: "This $134 million resort and health spa on 150 hectares … will comprise a vast array of recreational, health, retail and accommodation facilities – eight swimming pools, 18 hole golf course, nine tennis courts and jogging track and underground tunnel to the five holes on the beach side, where the resort boasts one kilometre of beach front."
Hyatt Regency Coolum attracted visitors from around the world. Queen Elizabeth II joined the Commonwealth Heads of Government there, at least one member of the Japanese royal family went birdwatching with my husband, film stars climbed Mt Coolum, Australian PGA championships were held there from 2002, and every-day Aussies came to stay in villas which could be owned privately or on a part-share basis. Some 700 staff were employed, making the resort the largest employer on the Sunshine Coast.
And then came the change … in 2011 the resort became the Palmer Resort, and the years since have held a litany of changes, from the Palmersaurus dinosaur park to closed facilities and on-going villa ownership troubles, settled late last year with villa owners sharing some $20 million.
"The more things change, the more they stay the same" … Will the resort flourish during Portion 502's second century? The future could be interesting!
---
Moving School in 1956
28 Jan, 2021
Across Coolum and the North Shore, school holidays are finishing, and a new year is beginning. Many students are looking forward to returning to their school, their friends, their teachers, and others are facing new adventures. It is safe to suggest, however, that no student will encounter the situation faced by the pupils of Coolum State School in 1956.
In the first couple of years after Mr Edward [Ted] Chapman had become Head Teacher at the school, Coolum changed considerably, with the development of subdivisions stretching from Stumers Creek to Warran Road. This meant that by the end of 1955, of the 23 children attending Coolum State School – a one room, one teacher timber building situated on the corner of South Coolum Road and Warrack Street – only one – John Windolf – lived south of the school. 
A booklet produced for the school's Golden Jubilee in 1967 explained the situation in the mid-1950s: "As more families began to settle at Coolum Beach, the two mile [3.22 kilometre] walk was proving difficult for the young children, so agitation to move the school nearer to the Beach brought action by the Education Department … District Inspector N. Pyle examined four proposed sites along the Main Road, and the parents present at the investigation gave unanimous support for the present site."
Twenty-first century Queensland schools are large, well-designed complexes with multiple learning areas, sporting fields, libraries etc. However, in the 1950s things were much simpler. The Coolum State School building on South Coolum Road was a simple timber building measuring 6.4 by 5.5 metres in area and designed to fit 35 students. It had been built in mid-1930, and its only facilities comprised an open space under the school [used for recreation on wet days], a rainwater tank, and two "drop" toilets.
The 'new' school was actually not a new school at all … on January 11, 1956 the entire school was placed on the back of a semi-trailer brought from Brisbane and transported down south Coolum road to the new site beside Yandina Road, on the western edge of the extended Coolum township. When the 1956 school year started the school was in place on its new site, surrounded by dense eucalypts and tea-trees, near the burnt-out remains of an old farmhouse.
In the next few years, local residents, proud of "their" school, bulldozed trees, fought a 1957 bushfire threatening to burn the school down, built a tennis court and planted pine trees along the road edges. It was not long until a second teacher was appointed, under the original school. The original building remains – a 'moving' tribute to the early years of Coolum State School.
---
Coolum Land Sale in 1922
Jan 14, 2021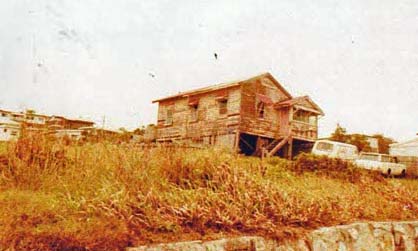 In my last article I promised details from Coolum's first land sale, on Boxing Day 1922 … little did I know that on the very day I sat down to write this article, a visitor would arrive with details of their family's purchase on that day, bringing the story to life!
The Nambour Chronicle from December 29, 1922, which suggested that the sale day might "be looked back to as the birthday of what must in time become a very fine seaside town" reported that, "People flocked there from every possible direction" by road, by boat and by cane tram – "easily 1000 all told".  Although many people just came for the occasion, 47 allotments were sold, at an average price of 52 pounds [$4316 in today's terms] for a block that was 16 perches [roughly 531 square metres] of beachfront land.  The most expensive block sold for 79 pounds [$6557 today] – of course, this was undeveloped land with no water, electricity or sewage services and dirt roads prevailed making for a long journey from buyers' homes!
Last year, a Mr Jocumsen visited us, seeking to establish the location of his grandfather's Coolum home. Initially, we were only able to locate a few early photographs of that area of the Esplanade, and we could not trace the house which Mr Jocumsen recalled seeing as a child. It has now been established, through the Department of Resources, Mines and Energy, that his grandfather – Andrew Jocumsen, a Yandina sawmiller – bought one of those original blocks [Lot 152, which was 21 perches in area] at the Boxing Day sale in 1922, on land previously owned, before the 1922 sale, by Piercey Maud Perry-Keene and her mother, Magdalene White. Andrew Jocumsen died young, in 1934, leaving his holiday house to his wife.
One early photograph located stirred Mr Jocumsen, but it was labelled "Jorgensen's house … built by Mr Best C. 1930", so the search continued, seemingly without success. It now appears – through the paper trail provided by the Department of Resources – that this photo showed the correct house, but Mr Jorgensen was its eighth owner. The building known as "The Rocks" is now on that block of land.
Why have I shared this story – with the permission of the original owner's grandson? I know that many current – and past – Coolum residents and visitors have sought distantly remembered or historically related homes of their ancestors, and many of them have contacted my late husband and me for help. I am always happy to assist, where possible, but there are other avenues as well. Online newspapers, your local library, and Government departments are places where you might find treasure!
---
Coolum's most important day?
24th Dec, 2020
Most Coolum people would be guilty – at some time – of commenting "Coolum's not like it used to be", particularly when considering the current housing situation. Perhaps the most important day in the historical development of Coolum housing occurred on Boxing Day 1922, 98 years ago, changing the area from isolated farming hamlet to holiday destination, and a home for many.
Newspapers far and wide trumpeted the glories of "Mt. Coolum Beach" … not the Mount Coolum area we know today, but 100 or so allotments, "all with an uninterrupted view of the Pacific Ocean", running south along The Esplanade to Point Perry, and inland as far as Coolum Terrace. The advertisement declared that the area possessed "attractions far beyond any other seaside in South Queensland" with a, "superb and absolutely safe beach for Surfing". Other attractions included sporting activities such as fishing; seasonal shooting of ducks, quail and snipe; and a hard and level Beach Racecourse, "where later on all the motor speedsters will score in a straight 5 to 10 miles run at 80 to 100 m.p.h."
The hill just to the south of Beach Road [still known to some locals as "Toboggan Hill'] was described as "the thrilling natural toboggan … to be reserved for the Residents' and other attractions included " mountaineering on Mount Coolum, where the view from the summit is entrancing" and "Scrub Hunting for orchids and ferns in the gorge and in the dense tropical scrubs."
Other delights promised "Ladies and Gent's bathing sheds and lavatories, Maypole and Swings already erected and handed over to the local Shire Council" and "Golf Links already laid out, and now playable" [although no-one ever seems to have sighted these wonders!] as well as "Cricket, Football and Tennis facilities etc. etc".
An article in the Nambour Chronicle told prospective buyers that "The new road from Yandina has been completed and is now accessible by motor car from Nambour [70 minutes] or from Yandina [40 minutes], and, in addition … arrangements have been made with the Moreton Sugar Mill for the early use of their tramway now under construction, which will allow the journey to be made easily within 30 minutes from Nambour". The article continued, "Anticipating a large number of visitors and campers … the Maroochy Co-Op Store has opened a branch upon the Estate." This was the first shop in Coolum.
Most campers hired tents on site, and today's residents will be happy to know that they were advised that, "there will be no necessity to bring mosquito nets as sandflies and mosquitoes are unknown on the estate"
My next article will provide details of this all-important sale, including prices of the allotments!  
---
Christmas Party Time – 1943 style
10th Dec, 2020
Even though the Covid-19 Pandemic has affected traditional partying for children in 2020, our young ones are still enjoying a plethora of seasonal Christmas activities. However, local Coolum kids experienced a very different run-up to Christmas in 1943, during World War 2.
On one hand, a number of local children had left the Coolum district, heading inland with their mothers to areas considered less dangerous than the coast – where Japanese vessels might perhaps come ashore in this area, above the "Brisbane Line" of security. Others had relocated with their mothers to more-distant relatives who could help with childcare. The School Register for Coolum State School shows that there were 19 children at the school in 1943. In 1942, trenches had been dug there, and the children drilled daily in their use, putting wooden pegs between their teeth so that they wouldn't bite their tongues if a bomb fell.
There were few younger men in the Coolum district at this time, as many had joined up – twenty-one Coolum men served in the Armed Forces, as well as seven Coolum women. Early in 1943 the Hospital Ship Centaur had been blown up and sunk near Bribie Island, and this impacted Coolum people. Some saw the blast from surrounding hilltops, and others – advised by the Army – searched the beaches south of Point Arkwright for wreckage, finding not just parts of the vessel, but items such as board games and a card table. These items were delivered to the Corner Shop in Coolum for inspection.
Older Coolum men, such as Jack Morgan senior, Fred Stumer, Percy Hewitt and Victor Marsh, helped form a unit of the Volunteer Defence Corps, still remembered by a sign on Point Perry. The VDC unit was lucky, in that part-time Coolum residents [and full-time artists] loaned their holiday house on Scrub Road to the unit for the duration of the war, as a "lookout station", as they were unable to travel to Coolum because of their active voluntary war work in Brisbane – especially because of limited availability of petrol vouchers.
Coolum children were invited to a wartime Christmas party at that house in December 1943, with the VDC unit attempting to brighten the lives of those who were undoubtedly living in quite straightened circumstances, and a photograph taken that day shows their happiness. We know that there were no cold drinks or ice creams because Coolum had no electricity. Butter and cream and eggs were limited, as was sugar, so it was possibly sandwiches, and un-iced cakes made with margarine. There is no record of Santa visiting, and no decorations, but the old photo shows the spirit of a simpler – joyful – time, 77 years ago!
---
It's School Break-Up Time!
3rd Dec, 2020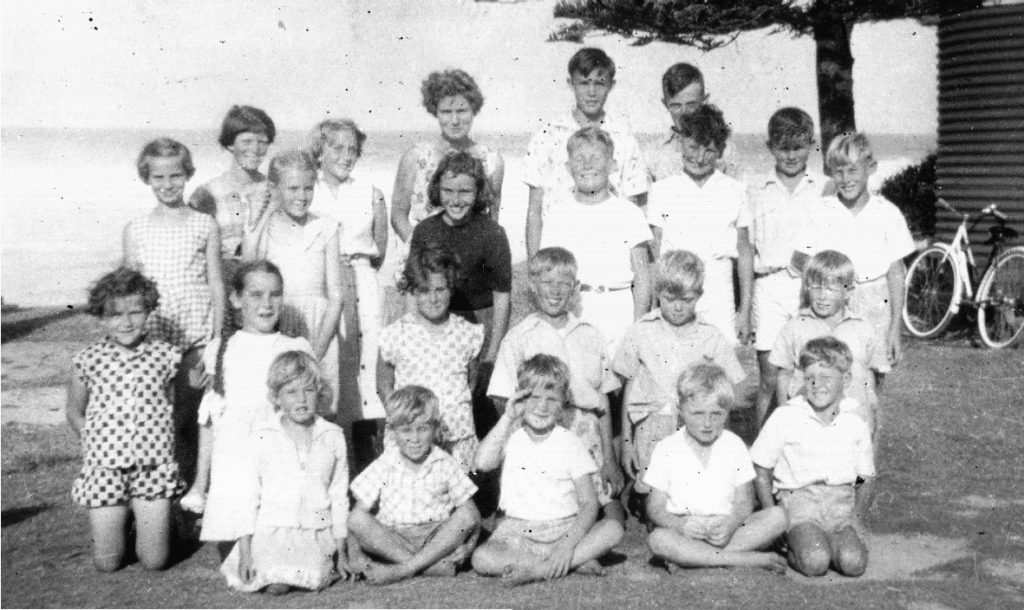 Although 2020 has been a very mixed-up year for Coolum and North Shore students and their parents, school break-up is an important feature in November and December. Consequently, I thought it worth reminiscing on Coolum school break-ups in past times.
In 1917, the first year of Coolum Provisional School – in the School of Arts near the corner of today's South Coolum Road and Toolga Street – a break-up picnic was held on Thursday December 13th, not only for the eighteen students, but as a general holiday for all Coolum residents. The students and their parents gathered around noon for lunch, after which – we are told – "races, tug-of-war, jumping, etc., were indulged in by the children for prizes donated by parents and residents generally". The fun included three adult tug-of-war competitions, with married men competing against single men and winning two out of three events.
At 3pm an impromptu concert was held in the school, with Mrs Perry-Keene playing her portable organ, and Mrs Morgan, Mrs Wintzloff, Miss Cook, Mr Cameron and Mr Short singing songs. After that, Mr Short presented one book to each child and extra book prizes to six of them, as well as a handbag to the teacher, Miss Chapman. After singing 'God save the King', everyone shared a meal, and at 8pm dancing, interspersed with more songs, commenced – and the celebrations continued until 11.30 pm!
In December 1955 Coolum State School, on the corner of South Coolum Road and Warrack Street, had a total of 23 students, from Years 1 to 9. Their break-up celebration was held at the shelter-shed which stood opposite today's Coolum Caprice, and every child attended, as well as several parents … some parents were still involved in harvesting their cane and small crops.
Once everyone had arrived, the most senior boy and girl were sent across to Bob Tickle's hut to invite him to join the adults sitting on the benches around the shelter shed – he would never attend without this invitation. The mothers then passed food around – egg or meat with pickle sandwiches, iced patty cakes, cream sponges, jam drops and lamingtons, washed down with bottles of Wimmers lemonade and creaming soda. Then games – egg and spoon races, three-legged races, and sack races – filled the time until lunch, and the rare treat of tubs of Peter's ice cream, brought from Nambour in a green canvas container holding 'dry ice'.
Every child received a book, presented by the school principal, Ted Chapman, and after that, students played on the beach until home time. This day was particularly poignant, as it was the last day for that school … 1956 was to see yet another start in Coolum education.